They would've had it had they not snagged it on that hole.
Still, support it with the rope next time, not just the plastic straps.
If they had let it down slowly after the first strap broke, I bet they could have saved it. Alas. But it wasn't an issue with how the knots were tied (as per the video title), it was that they tied directly to those plastic straps rather than wrapping the rope around the bottom of the unit.
I saw the effort, but it wasn't valiant.
[…something about workers rising to their level of incompetence]
while I've been known to occasionally lift boxes that are held closed with those straps, I would never use them as tie-down points as the video clearly shows why. Spend the extra couple feet of rope and loop it all the way around the box like you are supposed to do!
It looks to me like from their vantage point they might not have been aware that the unit was falling out the bottom of the box.
It's too bad the person making the video recording wasn't enlisted as a spotter.
At least neither of them tried to climb down the ladder and get underneath it. That could only have ended … poorly.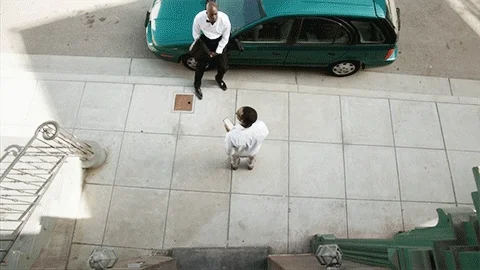 I was working with a crew that was bringing a 5 ton or so unit up to a roof & we got it all the way up to the access hatch to the roof & it was too big to fit. They brought it out to the fire escape on the front of the building & "tied" a rope around it , only they didn't actually knot the damned thing. When I pointed it out I told rather forcefully that I was wrong. They got it hauled about 3/4 of the way over the parapet when it finally unraveled & as it let loose one guy grabbed the fan guard on top & somebody grabbed him by the belt . That was too close for comfort. They got it up, but damn. Stuff like that is why I like to work alone now.
But the dungeon master says we don't have enough rope to do that and to have the rope reach the top of the wall. /s
If the camera person was more concerned with the integrity of the AC unit than getting video footage, they could have yelled up to let them know the unit was dangling out of the box, and to slowly lower it down.
But, then the fail video economy would crumble if the camera person didn't get the shot. I remember a time when home videos used to be cut short because a child was about fall off a swing set or a cat was slowly pushing something off a counter, and the person shooting the video would rush to intervein.
Now we get every detail, perfectly framed and in slow motion sometimes, lovingly rendering the mishap for our perusal. What a wonderful time to be alive (until you hilariously fall off of a roller coaster and land in the cotton candy machine)
Not shown: all the times when someone lifted an AC unit safely, or all the times someone intervened.
My take is that the person filming had already tried to explain what would go wrong, got admonished, then decided "fuck it, I'm filming this so"
The "fail video economy" is definitely a late-stage capitalism creation. The fact that there's an entire video industry of people destroying perfectly good objects just for the likes & subscribes really bothers me; especially the waste of the resources that went into creating them that end up in landfills.
"Will it blend?" – Whatever, it's ruined.
Science videos by people who can barely spell science. "Let's see what happens when we scientifically take the door off a microwave oven and point it at our expensive camera. Oh, it stopped working. That must be science!" – Nope, that's just destruction.
Shooting expensive objects with big caliber ammunition and a high speed camera. – Yes, a large chunk of fast metal is designed to ruin things; stop acting surprised.
The hydraulic press channel (to be fair, they're more about squishing visually interesting substances like food or playdoh, and less about crushing the most valuable objects)
Wrecking expensive vehicles (through demonstrably incompetent drivers, or by intent.)
It feels like the planet's on fire, and all these people want to do is to be seen throwing in their valuables before it burns out. And nobody cares about the waste; they just cheer them on. Do we really have to keep feeding the flames?
I had not considered that scenario, and that is a very good reason why the camera person would not intervein.
I am still an old curmudgeon about fail videos, though

Agree. I moved into a house with fellow activists. It was a really good deal, in a back unit with a ground floor kitchen opening to a large room reserved for meetings & recreation and upstairs I had a small office, bedroom and full bath. Oh, also, there was an extremely narrow spiral staircase you might see in a small boat. Luckily, there were was a very wide set of French windows with no central post in the upstairs bedroom.
Even better, the friends helping with my move in were the same people who throughout the 90s had scaled and dropped banners off of buildings, ships, cranes, refinery tanks, the Golden Gate Bridge etc etc. They had fancier (donated) climbing gear than the Sheriff's Department. So, hoisting a bedroom set up one story was small potatoes.
When they taught me climbing basics at Joshua Tree, we saw a dad trying to teach his son climbing by tying a rope to the kid's belt and pulling him up from above. Dad got a talking to. I imagine he went on to become an amateur A/C installer.