I LOVE Tom Baker, and I burst into tears the first time I heard, "I really think you might," in Day of the Doctor, but yeah, Tennant is the face of the franchise now.
I will fight any one who doesn't think Silence in the Library/Forest of the Dead isn't the best Doctor Who ever aired.
For us in North America he was the first Doctor we knew, cause thats when PBS started airing the show in the US. He was just so playful too. A wry smile, a glint in his eye, jokes and puns, and the best (or most iconic) wardrobe. My mom couldnt make me wear a scarf but he did.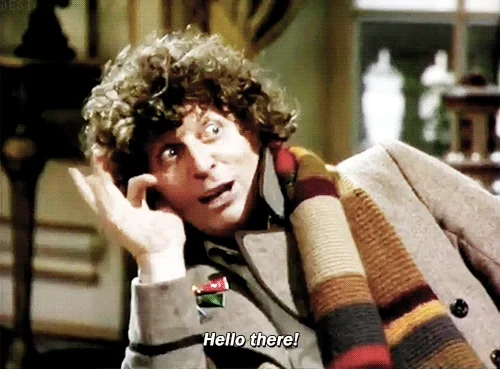 Normally not a big fan of reaction videos, but this is on my "watch when I'm having a shit day" playlist.

The Great Fourth was my first Doctor.
We got hip to Who via TVO (Canadian public tv), Channel 32, which barely came in on our tv b/c UHF and far away. It were fuzzier'n Tom's hair, but still watchable. A bit later the local CBC channel began carrying it, and since it's just across the Detroit River in Windsor, it comes in crystal clear. Our local PBS station began carrying it later still.
Oh, very, very same! snif
ETA: It was inordinately dusty in my room throughout that one, if I'm honest.
For me, that accolade has probably got to go to "Midnight", which is Russell Davies flexing his playwright creds and going full Three Dramatic Unities.
Neil Gaiman tells a wonderful Doctor story.
Like many kids, he hid behind the sofa for parts of the brand new tv series, and loved it all the more. Next day at school, his classmates were pushing their milk cartons round the lunch tables, creepily intoning, "Exterbinate! Exterbinate!"
He also wrote a wonderful Doctor story, in which the TARDIS becomes A Lady.
A Nightmare in Silver was good, too…
He's a little busy with adapting his own stuff, but I'd love to see him write more Doctor Who episodes…
Indeed!
He also appears to like sighthounds, which is always a good choice.
Hallowe'en 2012. My son (pictured with sonic screwdriver) had a alternative to "trick or treat":
"Knock knock."
"Who's there?"
"Doctor."

I was walking somewhere quite local and I saw him coming along the other side of the road…
nothing surprising…
just like the time I passed benny hill near baker street…
Solid choice. Not my favorite because, once again, Donna gets crapped on.
I'd probably go with Heaven Sent, Capaldi gave such an amazing performance there.
Tom Baker was The Doctor when I joyfully discovered Doctor Who in Chicago in 1975 on WTTW.
Yup, I've watched this amazing series for almost 50 years and still appreciate its quirkiness, creativity, and mashup of fantasy and science fiction.
Chicago Who fans actually helped fund WTTW during a particularly needy period and this PBS station rewarded us with an entire week of episodes, back to back, every Sunday night.
Good times, people, good times.
OK, all is forgiven: a video of Tom Baker is never a wrong thread to start!