Second:
(But first to play one of the main storyline "numbered" Doctors, rather than a mysterious past/future/alt timeline/??? Doctor.)
While I didn't like most of the writing for 13, I both cheered and laughed when Jo was revealed to be the Doctor. After 2 years, the furor around a woman doctor was just beginning to fade into the past when all of a sudden - "boom" oh, s/he's been both a woman AND black before!
I've long been baffled by the phenomenon of racists complaining about Doctor Who and Star Trek. What are you all doing watching these shows to begin with? When you do, what are you getting out of them? Whatever it is, it ain't what any of the creators had in mind.
Good luck trying to save this trash fire of a show. I hope he knows what he is getting into.
Well, Rosa might have turned out differently, I suppose.
Ha.
"…at least make it believeable!"
I was certain Doctor Who would never take off in the US…what with the feeble William Hartnell in scenes filmed in quarries (yer authentic alien landscape) and Daleks that looked like they were made from cardboard boxes with toilet plungers as weaponry …exterminate!
The only belief suspending element was a kick ass theme, courtesy of the amazing Delia Derbyshire - that and some spacey smoke effects.
Me? Hooked from day one.
i clearly hang out in different sections of social media. on twitter, i've only seen people over the moon and supportive about his casting. i guess it's a good thing i don't have to experience non-stop racists and whiners. like every Doctor reincarnation, i'm sad that we're losing the current one, but i'm looking forward to seeing what the new actor will bring to the character.
I bought "her" album of music when I learned about her (published posthumously). She was a pioneer of electronic music, and (unsurprisingly) didn't get her due.
I put the Fugitive Doctor in the same category as the War Doctor. They don't have any official eras (beside audio adventures produced by Big Finish but they are officially Doctors.
I adore JW and I will be said to see her go.
Ironically racists probably wouldn't care if he regenerated green or purple, but black. . . . ?
Don't hold back, now; tell us how you really feel.
Because those shows help us imagine a future that isn't racist, homophobic, mysogynistic, or otherwise bigoted.
Science fiction is one of the most dangerous forms of literature, because it imagines the future, good or bad, which is more often than not unflattering to the current power structure. It's the reason the Chinese Communist Party forbids time travel stories: they don't want anyone imagining or thinking about what China could have been like if the CCP hadn't taken over.
"They are trying to erase us!!!" If only…
Might I suggest not watching the thing you think is shit and leaving the rest of us to enjoy it?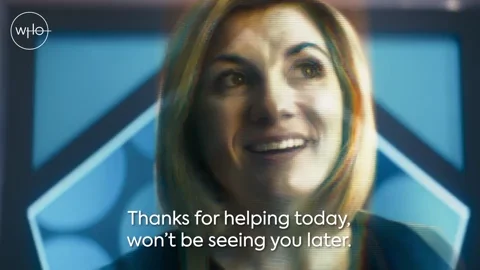 Still a few days to catch this very good docudrama on the iplayer, for anyone in the UK:
And this is well worth a listen, a previously-unheard interview set to music: