Needs head phones and some smack up jams for his walk.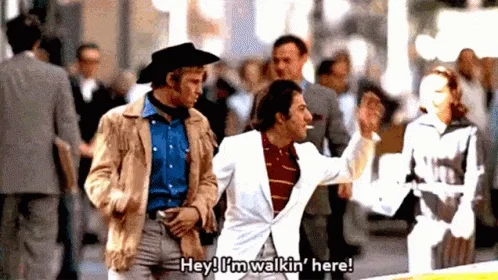 But where is he(?) going? What is his(?) motivation?
Well, you can tell by the way I use my walk
I'm a tardigrade, no time to talk
It is mind-blowing how much that walk looks like a terrestrial arthropod. Between seeing that video and looking at the PNAS article, I thought there was no chance that isn't fake.
The kinematics match a walking insect or crawfish really closely. The thing is the forces on a tardigrade are completely different; at that scale water would be viscous and gravity minimal. But the gait looks more like a large walking legged insect than it does a caterpillar or aquatic baby shrimp/crawfish that would have much closer forces.
The only way that makes any sense to me is if their grabbing the ground and pulling themselves along rather than pushing against gravity like the arthropods are. That is so crazy
I wonder how many of these are walking right now on my not-so-well-scrubbed kitchen floor.
Show me how they travel through fungus space…
Judging from its gait, I'd say that tardigrade is not just walking, it's stalking.
Tardigrada [/tɑːrˈdɪɡrədə/] which means "slow steppers" .
…looks like a nicely spritely gait to this methodical walker
Look Tardigradewalker.
There's nothing I would rather do
than go ramblin' with a Tardigrade or two
Ah… Ah… Ah… Ah…
Staying alive forever
In extreme weather
Acids, alkalis, whatever…
im curious how big their feet are and what they are constructed of. they look like the tiniest dark specs on the twitter gif, different than the rest of their body
they're made of chitin, like arthropod feet are, and depending on the tardigrade could be as small as a couple microns up to about 50 µm which is the width of a fairly thin hair
i now live in terror. that is wild! ( and oh so cool. )
thanks for digging those up
for some reason, it seems even more amazing that things exist so small than the things i can see everyday. ( and yet i know intellectually there's so much detail in every large scale structure that allows it to be large )
it's also just so cool that people are able to image things at this scale and study life down there
This topic was automatically closed after 5 days. New replies are no longer allowed.