One of my favorite parts of our time living in Nairobi was running into dik-diks on morning walks in the urban forests. They are so cute and so tiny and just wonderful.
Some creatures look like cute fan-art of other, more serious critters.
But if you click on the link, you're saying that you want to see them, making them very much solicited. To be truly unsolicited, one would just have to appear without being asked for like this:
Is the father named for Drax The Destroyer from Marvel or is that a common name…well anywhere I guess?
Just adorable!
How long before it's weaned and commences the adult's standard popcorn diet?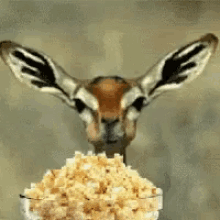 For sizing purposes:
That's some lovely news. It also reminds me of the Unsolicited Dik-Diks account that I folllow on the rightfully much-maligned Twitter, but hasn't appeared in my feed in ages. I wonder what's up with that.
If the account starts preferentially posting content from extreme right wing dik diks, they'll bubble up to the top of your feed again.
On closer inspection, I see the account hasn't posted any new pictures since April 29 last year. Sad!
This topic was automatically closed after 5 days. New replies are no longer allowed.