Cute!
I love how the cat looks back a couple times to make sure the videographer is still following.


And then when it achieves its goal of getting outside just flops down.

Let's see the cat do that with regular round doorknobs, instead of hanging on horizontal handles.
My cat tries regularly with our front door. So far, no luck. If he ever does figure out how to first unlock the deadbolt and then turn the doorknob, I'll be very impressed.
Good luck cat, I'm behind seven substitution jujitsus!
Years ago I swore I was turning off the bedroom light when I left only to go back upstairs and find it on. No security cameras back then to watch for ghosts. Finally, one day I walked in to find one of the cats on the nightstand under the light switch flicking it on.
A couple of our cats will get a time out in the bathroom when they won't stop trying to eat off our plate during dinner. They all know if they get up on the counter they can reach the door latch, so far they just bang it but can't get it open.
I'm gonna have to make a video that shows my cat Pastel opening all the cabinets and drawers in my apartment.

Yes. Yes, you are.
We'll wait.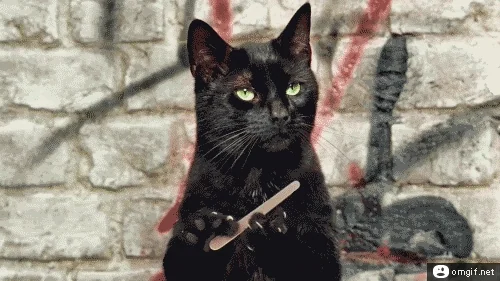 I remember when my great niece learned to open doors and "play" harmonica on the same day.
We cried.
I'm waiting for "Cat closes five doors"
Now: Cat opens five doors
Soon: Cat opens seventh seal
Came to express similar sentiment - why do cats never close the effing door behind them? Don't they know there's a draught in here letting all the cold air in now, and an energy crisis?
my friend lived with a cat who could do that, being the right height on its hind legs and having working opposable thumbs. very weird sight and slightly disturbing. the cat also ate its kibble one at a time like a dude eating chips. we used to joke warn not to leave your credit cards out or the cat would be in Hawaii
A bit of automation should work wonders…
Emphasis on "should."

I bought a door closer gadget once, which was installed on the upper hinge. At first it worked too quickly, so kitty didn't have enough time to exit.

A few adjustments later, it worked every time!

There was a cat that used to hang around here that had Thumbs. Don't know how well they worked, but, yes, they were somewhat… unusual.
Sounds about right. Probably run up a hellish Room Service tab, too.
We waited until the cat who could operate round door knobs passed before installing paddles.

@beauwillamson: Reminds me of another dearly departed cat who would bring me cash on occasion. You haven't lived until Abe Lincoln is meowing at you.