Shimerman is a true acting pro. It was such a pleasure to see him make a guest appearance on a recent episode of Star Trek: Lower Decks.
The arguments about whether DS9 is better than Voyager I think depend a lot on whether you like the characters or not, and Quark is probably the best character on DS9-- he and his brother and nephew are pretty atypical Ferengi.
I'm an unrepetant Voyager fan and it has long been my favorite of the series. But even I admit DS9 was better in every conceivable way. Better writing, acting, better overall arc for the series. It doesn't change the fact I want Janeway to captain any ship I'm on, but yeah… DS9 was the peak of the 2nd wave of Star Trek.
That was the nicest Karen I've ever seen.
Also, this interview is giving me a really, really good idea how interviews with real extraterrestrial visitors would go. He is exactly the amount of in-character for this, and exactly the amount of acting naturally as well.
Thanks, that was really a wonderful thing to watch. Despite the low resolution.
That was a great interview! Armin switched points of views flawlessly when answering as Quark and/or Armin when in makeup as Quark, and it was fun to see the personality difference when he was in-character and just himself.
"The truth is— I GAVE him those words to say!!"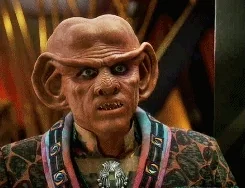 This topic was automatically closed after 5 days. New replies are no longer allowed.