I still enjoy The Mandalorian but it's not the show it was.
Haven't watched the video yet but to me the N1 represented a lifestyle change, went from mercenary to avoiding conflict. Yes it does feel temporary like he is going to fly whatever suits him at the time, instead of using the old formula of a main character being tied to their one ship forever.
It's perfect, it has the seat in the back for Baby Yoda to go "Wheeeeeee!!"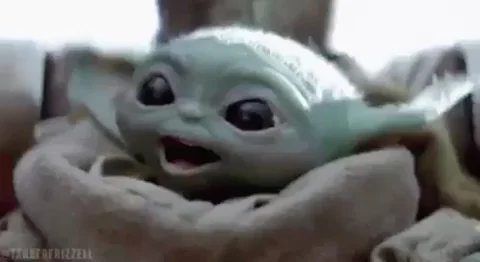 Yeah, it lacks the character of rugged self-sufficiency that I imagine a heavily-armed Mandalorian warrior would like. I think the race boat spaceship suits more of con-artist/gambler types that need quick getaway.
Or the need to get somewhere quick, in the nick of time.
"I'm trading in my RV for a fighter jet because I'm trying to avoid conflict now! Also I just enrolled my toddler in murder school."
Typically dads trade in their sportscars for minivans (not the other way around) once they have to deal with parental responsibilities, but maybe Mando is having his midlife crisis a bit early in his fatherhood.
I was still wrestling with whether it was THE Razor Crest or A Razor Crest (like, was that Din's name for it, like "The General Lee" or was it a model name, like "Pinto"?) and then they went and blew it up. Now he's more like space Knight Rider than space BJ and the Bear.
I think it's the model name. When it's time for school I tell my kids to get in "the minivan," but that doesn't mean there aren't plenty of other minivans.
Wookieepedia is typically a good place to answer such questions.
(Yes, it's a model name, similar to an A-10 "Warthog" or whatever.)
He needs something a bit roomier.
Basically the first season of Agents of Shield until they traded up a couple times. (The ~8 people in a bus format show.)
He quit bounty hunting and is now mostly on the run. He doesn't need the additional space to carry around prisoners.
He's on the run, not going to Costco.
One may as well fret about the lack of big fuel tanks and what seems like other practicalities to us, but Star Wars is a fantasy, not science fiction. How did Luke's X-Wing get all the way to Dagoba and back— how far can those things fly anyway? The answer: don't think about it too much! The only time SW ever mentioned fuel was in Last Jedi when Laura Dern flew a whole ship into a giant plot hole. Personally, I think the N1 looks cool, he's rockin' a hot rod! He probably eats a lot of trail mix and food bars or something, and has some sort of "waste evacuation" tube in his suit. See? I shouldn't have thought of that!
He had a chance to settle down and raise the kid in peace in Nevarro and turned it down flat so he could rejoin his former death cult and raise Grogu as a merciless assassin. Not exactly a pacifist lifestyle choice.
Obviously there is a lot more jet packs, pew pew, and magic hand waving in their future. But Grogu is not a warrior yet, he needs time and training.
How many times has the speed of the N1 saved the day, four or more? Right now the story and writing is about escaping and running and less about a closet full of guns.
Just my impression anyway, for all I know it could just be a cool ship and another box for sale on the shelf.
A lot of what goes on in the Star Wars universe makes no sense.
His choice of a ship bothers me a lot less than characters making interstellar phone calls, while Boba Fett still has to ride into town every time he needs to talk to the mayor.