Why not try the boiling water first? It's much less likely to do any damage to plumbing.
Does that work for showers? I could see kitchen sink.
Wordplay on draining the swamp and chlorine injections comes to mind, but then, I have to wash my mouth afterwards…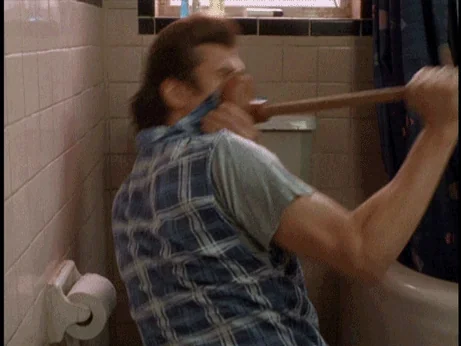 Luckily, I've never had a clogged drain that smelled bad, but I have had clogged drains. I usually start with pouring 1/4 cup of Dawn Dish Detergent down the drain. I let it sit for 20-30 minutes. Then I get the largest pot I own, fill it with water and bring it to a boil. Hold it chest height and dump all at once. The Dawn helps break up the grease and the pot of water dumped quickly provides pressure. It has worked most of the time. It also is pretty environmentally sound and doesn't risk harming your pipes. After that I pull out the big guns. Green Gobbler Hair Grabber Drain Tool | Hair Clog Remover | Drain Opener for Sinks, Tubs & Showers

A plunger works wonders and there's little risk of wrecking your pipes.
Pro-tips: use a sink plunger, not toilet plunger. There's a big difference. If you have an overflow drain, cover it with something like cling-wrap to make an air-tight seal.
Wow, says it cleans main lines as well. i.e. house to curb! The user ratings seem to support this as well. I'd be tempted, but at 100 Canbucks I don't know if I'd buy a bottle 'just in case', and if your main line is clogged you don't want to wait for two day delivery. Interesting, though
According to my plumber, a cup of bleach in a pot of boiling water works wonders. I pour that down the shower drain and all sinks once every couple of months. Let it sit overnight. He told me that gets rid of accumulated soap, shampoo, and products that stick to hair and cause clogs. Haven't had to call him in years after he gave me that advice.
That's the amazon price. Like many things on amazon, you're paying a hefty premium for the 'free' shipping. Home Depot or Crappy Tire has it for $20.
It is still more expensive drain cleaner than no name store brand stuff, but it works better. I've used it and it is definitely effective.
Looks like something the Joker would bath in.
50 years of restaurant work, it's boiled water in the largest pot you own, dump it down the drain, wait 5 minutes and start with the plunger with the water running. Repeat if needed. Works every-time.
Be careful with boiling water, it can crack cold porcelain!
The title of this product sounds like it is begging for a Burroughs character it inject it
Years ago when I worked in a theater we had clogged drains, called out roto rooter. Pesky butter flavoring poured down the sink by a clueless employee. Talked to the guy while he did it about clogged shower drains at our apartment. He said, "Go to Sears, buy a 25 ft. plumbing snake for $15. It'll take care of everything." I think I still own that snake I bought 25 years ago. The only thing it wasn't able to fix was when we had a problem with the connection between the house and the sewer. Turns out it was a common cheap fix if your pipe doesn't exactly meet the main city sewer line they would use a treated cardboard connector for the last few feet. Oddly enough, that fix doesn't last forever…
Sure, it'll look impressive for a minute or two, but the original problem will return not long after removing the device.
(so I've heard

)
That's not mine baby! It's not my bag!
I had an apartment in Chicago for a couple of years. When I first moved in, the bathtub drain moved very slowly, and backed up sometimes. Asked for maintenance to come up and take a look, and he brought a vacuum cleaner. In one minute, he had it set up and sucked a giant mess of hair out of the drain. He told me it was a common issue with the apartments, as people with long hair were not using a filter trap over the drain.
A friend of the family had to re-do their entire house's drain lines; seems that when the house was built, they used a combination of that treated cardboard and cast iron (one was lining the other, apparently) and after ~50 years of service, it finally failed.