A youtube teaser announcement for a teaser trailer tomorrow.
"Gap Year Holiday Gets Out Of Hand."
Dune: The Movie: The Game: The Novel: The wait, what
There's a NOVEL?
(Kidding :D)
Yeah, but I'm sure that the novelization of the movie is better
I really hope they continue this through Dune Messiah. The story isn't really complete without tearing down the messiah narrative, IMO. I'd love to see Children made into a film as it would be bonkers if it was faithful to the book, but it really is an entirely new storyline.
i feel the thumper should be a bit bigger (taller?) but omg that gets me so excited. teaser? successful!
THE HYPE MUST FLOW!
Teasers within teasers within teasers…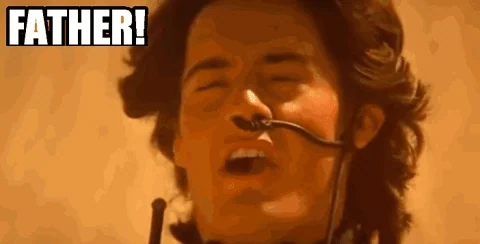 I'd rautha he looked like Sting.
If you can't mine nothing spice, don't mine nothin' at all.
What next, the album of the soundtrack of the trailer of the film?
I had that entire cassette committed to memory when I was in high school. Can still recite large swaths of it.
Okay, it's tomorrow…is it out yet?