Fan-flippin'-tastic! It is great seeing young women having fun together like this.
Of course, it is always a shame when one falls, and breaks a leg.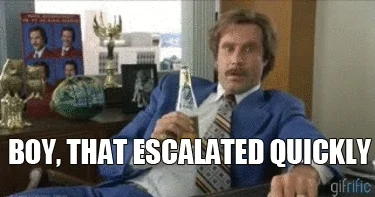 I will never not find this faintly ridiculous. But I also think most sports are faintly ridiculous, and it is refreshing to see a pretty inexpensive, safe, and creative pastime come from nowhere and quickly become popular enough for there to be a World Championship that people travel to compete at. More power to them!
I was at Sommerland Sjaelland in Denmark a couple weeks ago and they had a unique hobbyhorse arena which at the time I thought was delightfully absurd.
Now I'm not so sure it's absurd. It was fun, tho.
The best (most ridiculous?) bit was the competitor who after bowing to the judges, pats her hobbyhorse's head as if to say 'well done' as she walks out of the arena.
Gotta stay in character.

PS @euansmith You may owe me a new keyboard!

Possibly today's internet winner.
Beautiful freaks. Do whatever it is you want to do, f*** everyone else!
This topic was automatically closed after 5 days. New replies are no longer allowed.