Not recommended, after using in public place was detained by MI5 for several months and denied access to a lawyer.
edit - OK, perhaps it was a bit silly to ask the policeman outside the gates of Downing St. if he knew Theresa May's Government Gateway credentials, but surely they can take a joke?
That's pretty cool and the code kinda looks like it does something, but generally speaking, that's not how people code - so linearly - at least, that not how I do it.
At some point I got an "Access Granted" prompt but I can't tell if it was a random occurrence or some sequence of keys that did it.
Has this been on here before? I've seen it somewhere. Whenever somebody in a movie types fast and random my son and I look at each other and say, "hackertyper!"
Just remember to fullscreen your browser (F11, I think - I'm on my Chromebook that has a special key for it).
Figured it out.
If you hit alt 3 times you get "access granted" and if you hit caps lock 3 times you get "access denied"
Or have two people typing on one keyboard.
Fun fact! CSI:Cyber[1] actually used Hackertyper for its… hacker-typing a few times. The intro sequence, if memory serves, has bits from it.
[1] Which, if you are a computer-y sort of person is the funniest thing in the world.
Well chosen! I would also accept:
https://www.youtube.com/watch?v=fQGbXmkSArs
It's funny because it is (could so easily be) true. (I need a 'bitter laugh' emoticon)
Look ma…no typos!!
…and ESC will clear either.
ME either. I code a routine from the outside in, then work on the subroutines.
Hey @frauenfelder I'm just curious if you found Rusty's Electric Dreaming via my comment on Monday's post about curated newsletters? That'd be neat.
I̦͖͕̯͠ṭ̯̣ ̶̯̤̺̘̙w̧o̠̣̗̻͍̫u͏l͙̭̝̪d̵̼̟̮̭ ͔̤͕͔̜̟b̴̞͕e҉̙̺ ͔̤̩̙͇ͅm̜̻͕̩o̻̖̫̝̗̞̦ŗ͎̞è͚̞̖̝ ̲͕̥͜c̱͕o͕̗̜͇̳̖n̶̼͓̰v͇͚̼̰i͍̥͝n̢̯̙̣͉c̲i̦̦n͟g͍͚̞̲̹̩ ͚̬̺͈͚͇̬i̷f̸̙͇̦͍̩̻ ̥͍t̫̰h̘͇e͞ ç͇̩͍̭o̥͎̫̱d͔̱̩̥͚e̪̪̭̦̲̞̩ ̬̦w̨̜ͅa̺̲s̷ ̮̮i̭̩̟̙͍͇͢n͕̣͇̩̕ ̟͎̳̟̝AP̹̘̖̪̻L̗̼̠̫͕,̝̭̟͔͡ͅ b͇̙̰̰̯u͓̱͇͘t͚͜ ͖̕n̡͕o̻̘̟̙̩͡ ̠̝͔̖͇m̖͈̠̟͓a̡̟t̡t̬͓̟̹̱͇e҉̘r͝ ͓̖͖͚̝̖-̵͔̯̤̦̩̻͇ ̹͔̤͍̪́I͖̱͓ ̲͉d̠͈̻͜ͅo̲͢n̷͉̹̬̼͕̜̟'̪t̗̘̪̪̤̖̦ ̯̱̣̞̖͠c̩̺̖͠od̵̲̙͈̖e̫ ̺ị͟n͔̙̟̮̪͙ͅ ̸̭̰͔̥͔̤̗p̨ụ̡̯̖͔̱̹͈b̵ͅl̨̦̰̞̯̫i҉̮c ̶̰an̝̝̝̱y҉̖̬͔m̼̜͙or͖̯̣e̹͚̰̱̝̯̺̕ ̥͚̣͢á̬̜̻̘̮̗͔ṋ̣̜̖̀y͔̙̳̱̬͡w̳̫ḁ͚̰̺͎̠̪y̰͙͕̕.̣̜̦̰̻͓͖ ͈͓̱̤̪̗̥T̳͔̱̹́o͙̲̠͈̩ͅo̵̭͕̺̼ ̪̙̰̩̺m͕̜a̯͟n̹̙͕͔̤̥y̮͔̥̺͜ ḑ͈̯͎̜̣i̬͇̹͞s̮̙̦̩͘t̘r҉̮͍͙̜̱a̷c̩̟̮͍̩͢t҉͇i̴̥̗̜̫̘̳o̖̺̩n̻s̗ͅ.̴͉ ͖̳̙͈ͅI̡̯͖ ͅm̖̬̤̖͡e̬͖̗̫͍̙a̮̣̳n,̰̰̪͕̲̝͜ ̝̤̠̘̲̲̙t҉h͖̫͕e͇̟̯ ̸͈̠͔̦l͔̟̥̰a҉̠̩̭͖͕ͅs̺͚̬̖̪̰͎t͓ ̼t̢͔͔i̺m͇̥̲ͅe̦̳̩̤,̹͍͎̩͕̱ͅ ̻͕t̬̘̦̙͘h͏̩̻̙̲r̲e͚͉̼e̻ ̙͎͈h̬͈͜ͅa̹z͓͍̺̼͕͎̀m̩a̻̱̣̯t̷̲͉ s̵̳q̠̥̰̣͡u͓̠a̶d͢s̥̪,̥̭̘ͅ ̳̱͔h̢̗̞̙͙ͅe̷̟͇̲̙͔̻̙l͔͉̹̱i̞͚̘̙ͅc̀o̱̝̱̩̹p̟t҉̖̹̜̳er̥̺̱s̨̱ ̛̰c̯͇̣͖͖̱͍o͖̹͉̳̝͕n̞̻̗̙͎̘ͅt̥͉̬i̪͓͡n͘u̯̗͓̟̫̱̱͝o̩̠͈͖͍̦͘us̫̼̮̬̥̰ḻ͖̩͠y͇̭̘̪͇̜ ̧̦̻̩͉̻ov̝̳͞e̟͔͢r̨̩ḩ̙̩̟̠̖̘e̴͍̼̤͖̟a͚͙͇d̮͙͞,͕̗̜̮̫͎ ̟̻͡a̹̙͢ṋ̳̘̼͔̘ ͘a̙̟͓̝̩͠r̴̮m̮̩̬̥o̲͚͇̗͇̭̠͢ur̭͓͉̼͈ed̖̠̫͉̭͇̀ ̗͎r̻̜͚͓͇͙̰͞e͓̣̣̜g̯̣̖̺̤̰̺̀i͢m̪̤̥̜͚̫e̸̠̞̳̟͔̰n̡̝̗̲͔͇t͕̘, ̜̫͘ͅc̳̣̦̯̗̼͡h̘̮͎̳̤éc̠̥̫͉͓̠͕͞kp̥̪͈͢o͉i̖̤n̷̠̝̙̤̳t̵͈͎̯s̸̲̤ ̱̰͠ͅa̷l͞l̨ ̶̟͚̝̻t̗͔h̫̳͝ŗ̮̣̥o̢u͢ǵh̳̗͈ ̦̭t̛͉̘ͅhe͜ ̟͘c̗͟i̷t̮̼y̶̯̜͕̱̻̫̫.̛̞̲̰.̠.̨̣͙ ̜̕a̬n̸̺d͔͖̟͔̭̺̻ ͓I͉̹̺͚͉ ͇̱̲̹h̲a̡̤̫̻̹ḏ̹̮͘n͓̪̦̗̯'̙͔̕ț̵̬̰ ̘̙͚̱́y̼̳̭̭͎et̵̥̰͎ͅ ̗̟͍̟̝s͎͎uͅm̺͕̰̱̞m̖̜o̡̭̼ņ̰̟ed̲ ̗̗̭̼m̵o̶̳̘̜̼̝̬̠r̵e͞ ̗͎̪̪t̺̟͉̠̪͈h̶̥̹̗a̹͖̰͞ǹ̰͙̫̣̯̫ ̸͕̠͕ͅa̤̩̙͕ ̩̱̱͓̟f̫̦̱̠̻͟e͕͕͙w̟͍̜̼ͅ ͍̱̹n̷i͚̣̟̰̝͇g̤͉̟̹͝h̹͚͉̞͠t̡̤͉̝̱̲̳-̰͓̤̪̝̠͠g̞̺͓̖̙͔a̲̳͟u̶̪̰͇̳n̬̙̲͕̥̬͕͟t̴̜̠̥s!̶̪̬ ̭͡S͇͔͎͎͔͚͉a̤̟͎͖͘d̝̰̬͍̦.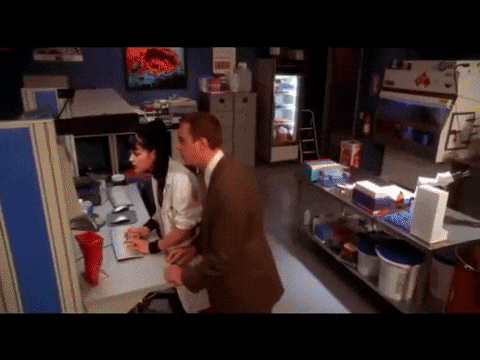 Kung Fury is such a brilliant movie! Hackerman is hacking time so Kung Fury can go back in time and kill Hitler. But he wasn't expecting velociraptors!
@ficuswhisperer I recognize GitS but what's the other one? It looks fun!
I did something like this when I was a kid. I had semi-computer-literate friends who had weird ideas of what "hacking" was and how it worked. They were thinking of network penetration type activities. Even though I knew practically no programming at all, I cobbled together an interactive basic program which made it look like I was breaking in - but then just loaded an online stock market game. They watched in awe as I did tens of millions of dollars of goofy shit on the NYSE.
When I finally confessed to them that it was a bogus hack, they politely suggested that I was getting nervous and trying to downplay it, because I had not expected my hack to be successful and have witnesses.
It's a famously bad scene from NCIS which despite being an actually pretty decent procedural show I have no idea how it's been the most watched series going on a couple of years now.
More on that scene (#8 in the list):

Heh, or get laughed out of the cafe.
Or you could learn to code…
Thing is, even if you were doing some coding and say, tried to impress people by setting up some macros to insert code snippets, there usually isn't much point in replicating stuff because normally you just make multiple calls to a function.
Also, nobody really codes that fast, as they are usually trying to mentally juggle several things while they type, and often need to backtrack to fix something that didn't work as expected.
Just having a couple of terms open running vi is usually enough to impress the average non-coder anyway.