I remember watching this when I was a kid.
My dad was perplexed. "Wait, he's a good guy now?"
There was also a Lone Ranger cartoon that was cool. Looking back, it was definitely what we would call Steampunk.
Oh man, I loved that King Kong cartoon so much when I was a kid in the 1960s. One of the department store companies (probably Sears, but who knows at this point) even came out with a King Kong Play Set, which was mostly a bunch of stock plastic figures, a few show-specific characters, some landscape parts like a mount (a facade) and palm trees, and of course a semi-poseable plastic King Kong figure (I think you could move his arms and head, but that was it). They even had a magnet in one of Kong's hands so that he could "grip" the plastic figure of that kid shown in the opening sequence. I got that set for Christmas one year, and I loved it so much that I lost most of the pieces playing outside in less than a month. To this day I can find no record that the damn' thing ever existed.
When was he not a good guy? The original movie made it clear that he was being ignobly treated by the promoters who dragged him away from his kingdom, and the destruction he wrought was a consequence of that.
Among my earliest childhood memories is the Kong show, mainly the theme song. I didn't discover that Lone Ranger cartoon until about 10 years ago on YouTube. It's really great – very similar in tone to "The Wild Wild West" (even the expressionistic animation is similar to TWWW's opening credits). I wish someone would find the masters somewhere and release it legitimately. They're probably long gone, though.
I had forgotten this one. I was all over Speed Racer, Gigantor, and Kimba the White Lion as well.
"This is a song entitled 'King Kong', it's about a giant gorilla. The gorilla is living a relatively happy life doing his giant gorilla thing in the jungle on some island in the middle of the ocean. One day some Americans come to the island. They capture the gorilla and bring him to America, where they make lots of money off him. Then they kill him." --Frank Zappa
[paraphrased from memory]
The cartoon series was the basis of the live action film King Kong Escapes. Featuring Dr. Who and Mechani-Kong!!!
Few people knew of the backstage romance between Kong and co-star Linda Miller
i don't remember this cartoon, which is odd, because i was a cartoon junkie. i'm still partial to the 70s movie Kong.
There was a similar Godzilla cartoon made around the same time, starring a human family who could summon the Big G to help them when they encountered the monster of the day. He even fights GI Joe's COBRA in one episode.
I remember the kid was the only one who could communicate with Kong. His secret? Talk Loud and Slow. And the African Bees
Edit: Oh and I forgot about the point directly at the camera 3D ish effect
It was paired most oddly with a shrunk(rayed) detective "Tom of T.H.U.M.B." (which if i recall correctly dis-acronymed to Tiny Human Underground Military Bureau ("military"?))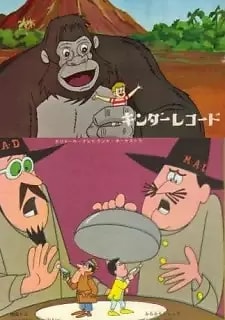 .
Who was opposed by M.A.D. "Maladjusted Antisocial (and) Darned-mean"
True. but he did kill or try to kill every human he came across, except for the whichever white woman he was interested in.
The one in the cartoon was benevolent and friendly to everyone.
Thanks for post! I still remembered all the lyrics, and sang along.
It's just coincidental. GI Joe wouldn't come out for another 3 years. COBRA in the Godzilla cartoon was a non trademarked cartoon friendly version of the terrorists in Godzilla vs the Sea Monster (Red Bamboo).
Both the music and the lyrics are reminiscent of the Gigantor theme. Any connection?
I watched this as a kid and still sing this theme song to this very day…
I remember Gigantor as well, no idea of the background of either show, other than that in the OP.