Bessie took up jogging and it did not end well?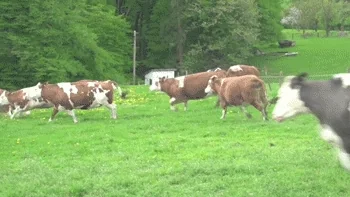 "… how he got into my pajamas I'll never know"
My question is less "why?" and more "how?" How did it end up in a jogging suit, what set of circumstances leads to that, but also: how did it fit? Humans and cows aren't exactly the same size or shape, so I'm not sure how you get one in a jogging suit, even if it's a calf…
A cow wearing a track suit? Must be a Jersey.
Hold on, this might help answer one of the great questions of our time - how was it wearing the pants?
This topic was automatically closed after 5 days. New replies are no longer allowed.