Note how matter-of-fact she is about Biden will being the one who's going to be on that podium in 2024. A nice touch.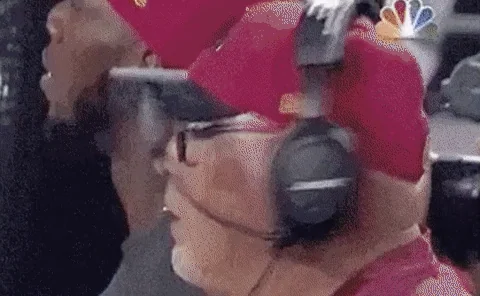 No sound on the video, chief
"It's a question best posed to the RNC on what they're so afraid of."
Republicanism seems to based Entirely on being very afraid of things.
It's empty noise from the RNC. Their presidential candidate won't be bound by them. The only thing it provides is an excuse for being chickenshit. "I'd love to have a debate, the best debate, but the RNC has forbidden it, so what can I do?"
These days, in particular, democracy.
Got to be a hammer cause she ALWAYS nails it.
Never forget how Biden absolutely demolished Paul Ryan in their VP debate years ago. This debate is half the reason Obama won…Obama's first debate was sleepy but Biden came out swinging at this one and Obama just learned from the master. The legendary "please proceed, Governor" happened at the debate after this one.
For those too young to remember, Ryan was THE poster child for the future of the party at the time. He literally had a poster of him shirtless, doing weight training. He was considered a policy expert and a mini financial genius. He also is, obviously, crazy young, which was the opposite of Mitt Romney who generally came off like a combination alien robot and dazed old man, both of whom were insanely rich. Ryan was the anchor to humanity and generally the person rolled up to the podium when they wanted someone to talk clearly. Biden countered everything he threw, left him with his mouth actually open at one point, and made him look like he was 12. Wouldn't be beat until a fly adopted Pence decades in the future.
Nobody needs to here those assholes.
"What are they so afraid of?"
Accidentally saying the quiet part out loud?
Trying to justify Fascism, would be my guess.
Forgot about that! Thanks for the reminder, that was fun
They want forums in which they control all aspect of their message propaganda.
Why risk an impartial forum when they can have appear on debates held by NewsMax, OANN, Der Stürmer, Völkischer Beobachter?
That means boneless chicken sold at KFC, loud mufflers, teens with baggy jeans, people speaking spanish to each other quietly at the supermarket, teens asking people to treat each other with empathy, cups of coffee that costs more than a buck fifty, signs at Target…
I found the RNC's announcement chilling. They're continuing boldly on the path of abandoning any pretense of participation in the political system.
So the GOP used to be mass debaters then they became master baiters. Now they are just masturbators.
Yes. Republicans are not being "wimpy." This brightly lit moment of wit on center stage is a distraction from their ongoing, multipronged march toward a fascist takeover.
DC Dems are the wimps here, putting up a resistance that's half-hearted at best.
You could extend that to right wingers across the world.