I love the FAFO phase of this case.
Judge Nuffer's had 'nuff o' their shit!

"Reps ban abortion
Reps ban drag
Reps love kids in body bags"
-March for Our Lives chant TN
I'm sure SCOTUS will rule the other way, citing "religious freedom" at some point for one of these cases. Probably basing it on case law that a pirate wrote on a napkin found in a bar in 1682.
case law that a pirate wrote on a napkin found in a bar in 1682
How dare you mock the foundational document for the sovereign citizen movement? /s
ikr? How could anyone forget about the gold fringe on the napkin?
/s
Don't give into defeatism, sis.
But the tactic still worked.
The FO phase needs to be figures in authority going to jail when they violate people's civil rights.
That SCOTUS also misunderstood.
The upshot: in (at least) one decision, Alito based his decision on s 17th century English case where he completely misunderstood how that decision, and how "the founding fathers" understood it. He was falling back on "the framers' original intent" but his understanding of that intent was completely backwards.
Sure, SCOTUS claims it's all about "religious freedom", but when I start throwing stones at adulterers (never having committed adultery myself) they call it "assault and battery" rather than "following God's commands." /s
… well, technically,

Can we just admit he was just making shit up to get to a specific preordained conclusion?
Religious freedom only applies to conservative christians. Mainstream Christians and minority faiths don't count to them.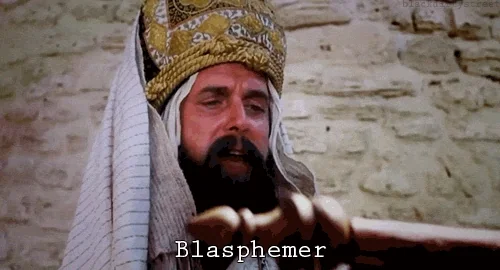 That was pretty obvious from the start, but it's weird that he couldn't even convincingly fake a legal justification. If you're willing to go that far back and look at frankly irrelevant, archaic cases, you should be able to cherry-pick something better.
Nuffer's ruling and its basis are crystal clear… yet, the city of St. George said that [they] are currently evaluating [their] options in light of the ruling."
They still don't fucking get it.