Yeah but Tom Hanks is the kind of Christian who was making movies humanizing gay AIDS victims back in the 90s so he clearly doesn't count. /s
So, being a toxic, fascist douchenozzle can be deleterious to one's career? Who knew?
Also, and this is key, by all accounts Tom Hanks isn't a festering batch of dickcheese, while Kevin Sorbo is.
Also, there's an anti-semititic subtext going on there.
can't get roles anymore because he is a follower of Christ and a conservative.
of those two he chooses the former for his victim-hood? seems a suspicious strategic choice given from whence the shouts of victim-hood are by far the more common these dark days.
Isn't Chris Pratt super Christian? No wonder he never works.
Or maybe it's because you suck Kevin?
Being a christian isn't what's interfering with Kevin's career. Being a hypocrite, an egotist, a pathological liar, and generally scummy lowlife that nobody wants to be around is what's interfering with Kevin's career. Which, come to think of it, is what a lot of people currently identify as "devout christian". Much like Jesus, these new-style christians regard Tom Hanks as being far too "woke" to be a real christian.
It's all too common for us to blame others for our problems. In the words of maga it's time pull yourself up by the bootstraps and take responsibility for yourself.
Didn't Ayatollah Khamenei make the same claim that his faith ruined his Hollywood career?
/s
Christian and conservative, although not over-the-top conservative. One of the rarer sane ones.
I'm sure Sorbo has a checklist in his head that disqualifies all these people we're talking about from being real Christians.
Yeah, I don't think Sorbo believes they are of the same faith. Sorbo's problem being his faith is decidedly dickish. Though that's not, as pointed out, in and of itself his only career impediment…
You aren't oppressed, Kevin. You're just an asshole.
WWJD?
Probably something woke that Kevin Sorbo would never do.
Truth.
Lying.
A What Agents Say/What Kevin Sorbo Hears Farside cartoon.
Kevin. It has nothing to do with you being Christian.
It probably is a 30/70% split having to do with you not being a great actor/being an insufferable bigot.
Crazy what happens when people discover that ugly side to ya. All of a sudden they aren't so keen to pump your tires, eh?
A YouTube channel I subscribe to, sure the guy is a total Dude Bro with all his buddies getting into adventures, sketchy sometimes… but I thought I knew his basic parameters and put him in the "dickish but generally harmless" category. Then last week he starts promoting a contest with some "stop child trafficking" group that seemed more about pushing their merch than anything concrete… I swear I expected Jim Caviezel to show up. that is an area where I have bias and distrust, and if he embraces a group like that, then adios.
Kevin, if you aren't even getting invited to World Of Wheels … yer past your expiry date.
And if Jerkules was offered a job by "Hollywood", he'd turn it down, of course, because he doesn't want to work for "those people" (you know the ones).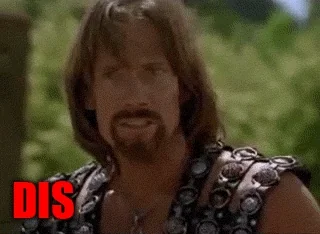 If i remember correctly Kevin Sorbo is also very much into Trump [does a cursory search] Yeah, here's literally the first search result:
And so he's definitely not a conservative. He's a radical.