biblically, she'd qualify for stoning.
Bibilically, you're supposed to forgive debts.
Maybe she thinks that the best way for America to maintain the faith of its creditors is to turn over their tables and chase them around with a whip.
Not to mention that she was voting that the US default on its debt, so NOT pay its debts. She's wrong no matter how you look at it.
Also, no charging interest:
"If you lend money to any of my people with you who is poor, you shall not be like a moneylender to him, and you shall not exact interest from him."
Stopped clocks and all I guess. She's correct in saying that a debt ceiling increase was the only way for the U.S. to meet its existing financial obligations.
With apologies to the eastern traditions from which the term is derived, I think MTG's racking up some 'biblical'-level karma.
As lastchance said above, she voted in favor of raising the debt ceiling. I understand the confusion. How could this loony toon actually have done the right thing? However she got there, she voted correctly in this instance.
Jesus' disciples at Bethesda…
"Goddammit, Jesus! How are we supposed to turn a profit if you keep giving away all the fish sandwiches?"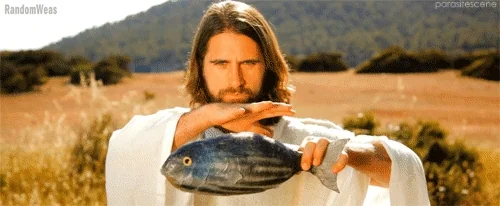 Right. I am no MTG defender, but in this case she actually did the responsible thing and is being threatened with a primary because of it. So the headline on this article is misinformation. It needs to be changed and clearly restated. Because people will believe the thing they read first that fit with their prior beliefs. Otherwise we're being just as misinformation prone as the people we object to.
Needing to vote to increase the debt ceiling every X months or whatever is such a bizarre American performative stunt that needs to be done away with already. No other country has any similar construct and thus doesn't have to go through this silly drama every time. Plus all the hostage taking, shutdowns, etc, that end up going along with it. The whole idea only exists because Debbie in South Dakota thinks government finances work like balancing her chequebook so politicians made a show for her a while back and now you're stuck with it.
Yeah and the fact that so many people that live here, even those with educations sometimes, literally think this has something to do with how much money the government is allowed to spend in the future is disturbing. I'd really love to see the damned thing done away with. We don't really need an auto-destruct button on the economy.
. . . jubilee . . . ?
I shouldn't be surprised, though, that most Christian nationalists have never read the Bible.
Incorrect: MTG voted for raising the debt ceiling.
This is an excellent line and I will be stealing it.
This topic was automatically closed after 5 days. New replies are no longer allowed.