Meh. They'll be friends again soon enough, bonding over their common interests in cutting the safety net and stepping on puppies.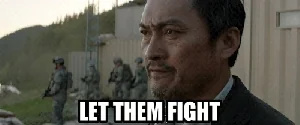 They're are starting to eat their own. Which is fun because they're just things in a litter box.
"Why do those darn Democrats keep trying to divide America?"
Oh, it's over? What a shame. I was hoping for more red-on-red incidents.
Slightly off-topic, but it always catches my attention when they sweep across the floor like that and you see the one side of the aisle in contrast to the other side. I feel like you explain 99% of American politics in those demographics alone.
Schoolyard thugs and bullies, all of them.
Don't mention litter boxes around these people. They get kinda triggered.
Needs more finishing.
You know, I watched this while it happened, and it just looked like he was making a pointed comment, at least until people grabbed him from behind and started pulling him away.
It seems, though, that Matt Gaetz is seriously gunning for Ted Cruz' position as the most hated man in Congress.
Aw man, I'm now envisioning a missed opportunity: someone standing outside the House entrance with a box of weapons, handing them out to House members after they got rid of the metal detectors. We could have had some real entertainment. Maybe some duels, some drunken knife-fights…
You may joke, but I saw some Federalist nimrod over on Twitter explaining how the Democrats were just as responsible for the Republican dysfunction… because they weren't voting for a (Republican, of course) "compromise candidate." As if that made any sense.
That seems appropriate for a certain caucus.
I saw a lot of people in the media making this argument. That Democrats should quit gloating over the GOP dysfunction when all they have to do is support a Republican. I heard this a lot over the last 2 years when Biden's legislation got stalled in Congress. "Well hey, if he'd just change his proposals to the ones Republicans liked, then they'd pass!" I do not fucking get this at all. That argument is never made the other way around. It's always the Democrats who are supposed to move to meet the Republicans where they are. It's always the Democrats who are supposed to take the high road, and be the bigger people. And that's exactly why this country has moved so far to the right since 1980. I was happy to see every single Democrat stick together throughout this whole fiasco and support their candidate, Hakeem Jeffries, and remain united, even though Jeffries is a centrist and you know he wasn't the choice of the progressive wing. It didn't matter since he was never going to win anyway. What did matter was seeing every Democrat hold firm and refuse to bail the GOP out of the mess they made for themselves.
I'm still not clear why the guy grabbed him by the face to restrain him
In his defense, there are a LOT of people who'd like to punch Gaetz in the face…
I think they still have the rules package to vote on. I wouldn't call it over yet.