Plus "immigrants" - the other Daily Heil bandwagon for creating fear. (House prices come a distant third these days.) But basically, yes, anything to cause fear and alarm.
Dead cat is when politicians do it, typically.
Which is not to say it cannot be deployed by newspapers too.
Or that it cannot be deployed by newspapers at the behest of politicians.
It beggars belief that anyone in the Whips office thought this might distract from Partygate or assist the Tories in the local elections in a week or so. Seems like a rogue operator - but anything is possible these days.
Smut sells, or I should say still sells.
I always figured Boris Johnson to be more distracted by something like…say, Thomas the Tank Engine.
This is so ridiculous that the first thing I thought of when I heard it on the news was not Basic Instinct but the court scene from Serial Mom
it's a bit like the Fox News cycle of:
opinion wing says something outrageous and slanderous
evening news wing reports it as a "people are saying" piece
profit!
Well…
And the comment of yesterday goes to David: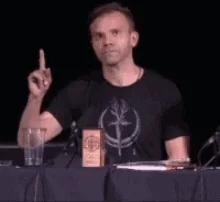 That one. And what's worse is that the politicians don't even have to ask.
This topic was automatically closed after 5 days. New replies are no longer allowed.