New York City has not been conducive to nudity. Weather has been unusually cold. Not freezing but not as was warm as expected for Spring
I've thought that a awkward dinner party would be invite your friends over for a meal, and then have it be sushi served on your nude body. After dinner, just return and carry on like nothing odd happened.
Personal experiences say July - Mid September. Long Beach NY (35 miles from Manhattan) has nude beaches
Is that a metal umlaut? Those are only acceptable in content that could reasonably be airbrushed onto the side of a van.
her goal is to help everyone connect the 'purest' version of themselves
I'll take the slightly less pure version of my friends if it means I don't have to watch them sitting around nude while they eat.
Don't spill hot soup in your lap!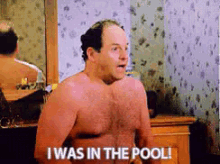 They could combine it with this:
Is this just to make up for eating rabbit food?

That's a better option than the types of "blind" dining restaurants they have around here…with servers using night vision goggles.


That would seriously depend on your friends. I've been to that party; it was quite fun. (The host loves food play scenes.)
As for the restaurant in question, we allow nudity at our kink events (obviously) including in the dining area, but any guests are required to bring a towel so they're not putting their naked butt on furniture.
Okay, but how's the food?
Video here
Many participants have pixels. Some of the füde does not look nüde friendly but the screaming seems to be optional.
Interesting concept. However, I would like to point out that quite a lot of people can only show their purest form while in disguise.
I'll never understand why some people think Vegans are weird.
They must be Japanese, no doubt.
I have seen some documentaries.