"Dammit, whose idea was it to hire that pesky Hope Hicks?"
I think the idiom "sung like a canary" implies a person who gave up a whole lot of information—possibly even unbidden—as singing is part of a canary's natural behavior.
Maybe we need a new idiom that likens Meadows to a bird that squawks whenever you poke it with a stick.
I didn't have to get very far into the article this morning to understand it's all an oblique way of reporting that Meadows is in the process of doing a slow flip on his former boss. Which is not a surprise to most of us here.
I think Meadows deserves a nice, long stint in a federal lockup. But if he's helping to put Trump behind bars, I suppose I'd be willing to see him walk free – into a world where everyone knows he's massively corrupt and where every one of his former boss' disciples will want him dead for turning on the god-emperor.
If Meadows had sung - and had sufficient useful information- he'd have a deal.
So - he either didn't cooperate enough or they're trying to protect him by not making the deal public.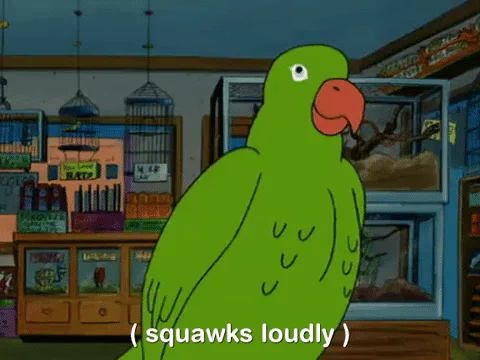 I'd let most of them walk if they help nail Trump…but Rudy and the Kraken need to see the inside of the graybar hotel. They can't walk, their culpability is the most, other than Trump's.
We'll be able to absolutely infer the existance of a deal if the GA charges against him quietly go away. Jack Smith is not going to let his star witness slip through his fingers because if Meadows still has liability in GA, he'll just clam up in front of the DC jury. And I'm confident that Smith has enough juice to get Willis to defer the charges against him.
Lucky for us Rudy does all his testifying totally voluntarily in public or on camera, so no real need for any special deal.
Rudy and his mouth reminds me of a Ron White bit about being arrested once when he was flat-out drunk…"he has the right to remain silent, but does not have the ability."
"Tooted like a whoopie cushion"?
He was channeling Weasel from Deadpool 2: "He was torturing me! But all I told him was everything he wanted to know."
It is looking like a number of the defendants are definitely starting to look out for their own interests rather than Trump's.
Zaphod Beeblebrox: hey man, I'm dangerous when I'm cornered!
Ford Prefect: yeah, you fly to pieces so fast people get hit by the shrapnel.
(Not a bird, but seems vaguely appropriate here)
It must surely be obvious to all concerned that loyalty is a one-way street for Trump, and that he will sell every one of them out in less than a heartbeat. The smarter ones must surely be thinking hard about how best to avoid taking the rap for his crimes as well as their own.
Of course the calculation becomes complicated, because while there's no upside to taking the fall for Trump, there is a real risk in turning on him too publicly. Every potential witness is just one all-caps Truth Social post away from having to look over their shoulder for the rest of their life. Unlike traditional Mafia bosses, Trump may not have any loyal gunmen on payroll, but he's got an awful lot of "stochastic henchmen" hanging on his every word.
Which is why "quiet collaboration" is the way to go.
That heart is pretty heavy. Keep squawking Mark!
This topic was automatically closed after 5 days. New replies are no longer allowed.