It seems obvious to me that this is staged.
Is it me, or are the links to the videos missing?
The links are missing for me as well.
Links show and work for me (tablet/Android/Brave).
Yeah, when the second cart came out from behind the car that became pretty clear.
Totally staged Shopping Cart Theory; the decision to return a shopping cart is the ultimate test of moral character and a person's capacity to be self-governing.
And for many who fail that test returning a shopping cart is the ultimate test for a sucker.
This is like picking a fight with Bugs Bunny— you just aren't going to win.
The links work for me, but only from the main article
Do you want Trailer Park Boys? Because that's how you get Trailer Park Boys.
Yeah, pretty clear - but for whom? The woman filming it, someone else (and she's just an accidental witness), or just for the public performance of it all? If it's for the woman recording it, it feels like a bit of a let-down, if they went to all that work for… that.
If you have an adblocker installed, that's probably why. Mine loaded the captcha, but took issue with the domain the embeds tried to load video from.
who're the Trailer Park Boys?
I thought the commentator is in on it too.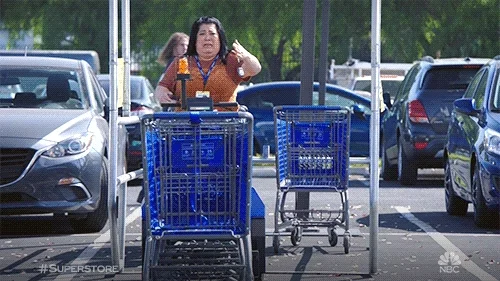 Yep. Like the summer actor stock stand-ins for stand-ins.
The volume of carts produced from behind a single small car itself tells me everyone involved is in on the joke (including the woman filming and narrating). To be honest though, the better payoff would be the driver playing along with cleaning up the carts just long enough to distract the security guy and pull out.
Her other TikTok videos are also staged, probably with the same two males.
Yeah, I kind of assumed so, but I really like the idea that these two guys were just acting out this drama for whoever happened to be watching.
Ah well, the more interesting option is definitely off the table, then…