I feel I should point out that you've described psychopaths as suffering from psychosis.
Psychopathy and psychosis are two very different things.
For a start, psychopathy is a neurodivergent condition, which is probably life-long. (I've seen some sources distinguishing psychopathy and sociopathy as that the former is congenital, the latter can be acquired through abuse and trauma. Other sources say that "sociopath" is a word for someone with Antisocial Personality Disorder. Those two definitions may overlap.)
Anyone, on the other hand, can suffer a psychosis, from any number of causes, and from a one-off reaction to something to a condition which lasts the rest of one's life.
Thank you. Was rushing to the comments section to say this.
Psychosis is any perceived separation from reality.
Conflating the two is dangerous.
It's in the first segment of the video itself, too.
Except that the dramatic parts of movies are also amped up one million times. This sets all kinds of crazy expectations about what normal people can do in cars, why people would want guns, what are reasonable things to do in relationships, and so on. Not to say "movies are to blame for society's ills" or anything so trite, but it is a problematic notion to me to say drama is just removing dull parts.
The excellent Veronica Mars Investigated podcast includes a segment with a criminal lawyer who lists every crime committed by all the typical "dramatic" things people in the TV show do. They've also done Home Alone and a few other properties. Spoiler: just about every "dramatic" thing someone does in a movie is some form of felony.

They left out very best cinema psychopath. This is what psychopathy really looks like.
Beat me to it! I'll just add that asking any two psychiatrists or psychologists what the difference is between sociopathy and psychopathy will get you at least three or four different answers!
Im glad to see he profiles Gordon Gekko. The fact that Libertarians see him as the hero of the piece speaks to how deranged and anti-human their ideology is.
"I'm sorry, but I need to end this interview now. My editor is sending Lois and me to cover a press conference by noted sociopath Lex Luthor."
I guess they wouldn't want to do two Batman movies but it's a little sad not to include Scarecrow. One of the nice touches in Cillian Murphy's portrayal is that Scarecrow never blinks.
ETA: also how come Anton Chigurh is "Chigurh" but Catherine Tramell is "Catherine"? Pet peeve.
Coincidentally I just saw that vid on my own over the weekend.
Small algorithm…
Without the glasses- he looks like he could use a Fez. They're cool.
And Mr. Kent's suit is too big for him.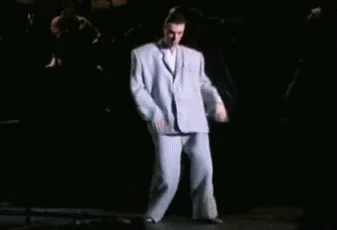 Do you have any reference links on that? Mental illness is not rare. We all have experiences with people in our lives suffering from various mental illnesses.
I'm not sure psychopaths are considered 'psychotic', actually, despite having the same prefix.
But if we're including psychopaths, then yes, sadly, most people do have enough experience dealing with them in life to have some sense of what to watch out for!
I've never actually seen Basic Instinct, but in No Country he is solely referred to as "Chigurh" to the degree that it sets up Josh Brolin's "Sugar?" joke.
Same exact thought when I read that. It reminds me of something I heard once; "The difference between romantic and creepy is attraction."
Not exactly true, but definitely a little "truthy".
This topic was automatically closed after 5 days. New replies are no longer allowed.