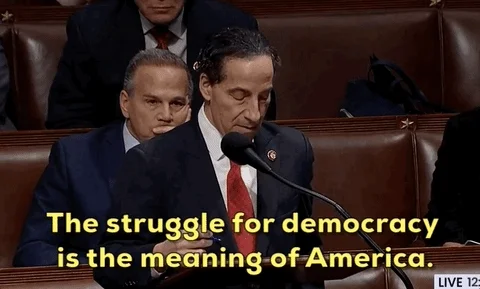 He continues to be an awesome human being and a great representative for his district… all while fighting cancer.
That's the kind of tough guy the MAGATs can only dream about being. I don't know if Raskin has a home workshop, but if he does it's not a phony-baloney stage set like Swanson's.
Man, I can't believe how energetic he is while enduring chemo. Thank dog for elected officials like Rep Raskin. We'd be in a much darker place today without him and his peers.
I also can't forget that he lost his son just a few short years back. Rep Raskin is becoming my hero. Makes me want to send him a letter letting him know how I feel.
I'm afraid I have to disagree with Rep. Raskin. This wasn't the big lie stretched to cover Januay 6th, 2021. This was the 'biglyest' lie anyone has ever heard before. This crap makes the Watergate break-in look like a tourist visit: The Teapot Dome scandal was a nothingburger compared to this.
It was literally the week before January 6th! He's a real fucking American hero!
I think he knows…
This topic was automatically closed after 5 days. New replies are no longer allowed.