Realists: Yeah, that explanation sounds reasonable.
Conspiracy theorists: Nuh-uh! AAAAYYYYLLLEEEEEUUUUMMMSSS!
Hard-core conspiracy theorists: It's all fake, Mars isn't real, and one of the slave workers in the closed set studio where they film this is using this to send us coded messages about the next election, and the real ingredients in sriracha sauce!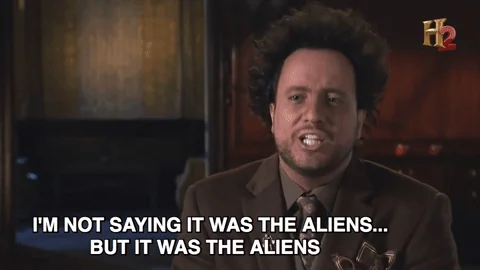 It's interesting to consider that that rock has (probably) been sitting there for tens of millions of years. Maybe we could get some Scoutmasters to go up there and knock it down for all of our safety.
Fortunately, the Galactic Girl Guides are more respectful of the environment.
Careful! The Gorn behind it is just waiting for the rover to get closer.
hey now. aren't we the aliens on mars?
That is clearly Elvis trying to hide from the camera behind a large rock.
It's a sure sign of tourists.
isn't that just fancy mayonnaise?
" served with a wisp of our airy aeolian drizzle over vegan shrimp tacos…"
aeolian sriracha. even better. (at least we get to the red of the red planet!)
PBRs is one thing. What concerns me are the ROUSs.
Obviously, a mimimmo on a scouting mission.
Perseverance should prepare for an attack of the mimimmi partisans.
Yes, I know, this will be lost to 99.9% of non-Italians, and some Italians too, but it was just too fitting (when reality takes a page from fiction):
Fascisti su Marte.
As are the Galaxy Scouts from the Incomparable Radio Theatre.