A comparative knife video you say?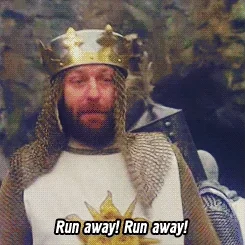 He's gonna put his eye out one of those days. Not with a knife or a sword, but with that chair.
The music really kicks up the emotional impact of the stories
PS in the bit of the video I looked at, he mentions how the knives are advertised as being from the Honshu region, which I guess he (and their other customers) didn't google
Three words: Berwhale the Avenger!
I am amused that Shad is described as a "sword expert." He's an amateur enthusiast, guys. He shares his opinions online, but that does not make him an expert in any way.
I didn't know that. I stopped following his channel when it became clear that he didn't actually know much, and just rambled about his own unfounded opinions for way too long. I am unsurprised.
He had a (sorta) amusing video about 'mall ninja' weapons and other highly stylized, impractical, and hazardous to the operator blades, but otherwise? meh.
My narrow wooden knife block saves precious kitchen counter space and has been as high value as any knife or knife-related product I've found. Wait, what were we talking about?
This topic was automatically closed after 5 days. New replies are no longer allowed.