The human actors in this show look like wooden, waxy Supermarionettes. That was also British product, so I wonder if it's deliberate.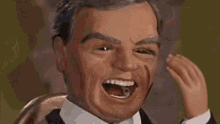 Looked like an ad for silver painted dog chew toys to me
The theme music is my new ring tone.
Thanks, Gareth!
I liked the part where Riff Raff blew up the doorknobs with his explosive gas.
This topic was automatically closed after 5 days. New replies are no longer allowed.