Her dentist must LOVE her. I get grumbling that they have to break out the kid-sized xray bite wings.
I don't know why but it really bothers me that a 31-year old is calling her Tik Tok audience "the children of Tik Tok". They're not that much younger than you!
(She also calls her audience Americans, spectacularly misunderstanding the nature of the internet)
I briefly saw someone scrolling through one of her social media profiles (probably TikTok) and the majority of recent videos are all her eating large quantities of things or putting lots of food into her mouth (eg, submarine sandwich, massive bundle of french fries, etc). I don't want to be judgmental but it struck me as a clear example of doing what's popular for popularity's sake.
Dopamine is a helluva drug.
Whoops, wrong reply button

Potentially dangerous, too. World's largest mouth doesn't translate to world's largest esophagus.
Yikes! She's like a Francis Bacon painting come to life.
where is the mouths for eyes photoshop when it is needed the most???
I'd have sworn that she was the model for a lot of comics and anime, but they came first. Uncanny resemblance.
Without taking anything away from Samantha or her mouth, I have unanswered questions:
Can Samantha jam that grapefruit in James' mouth?
Has James always dreamt of picking things up and handing them to a lady to see if they will fit in her mouth?
What does he see himself doing in 5 years?
Did he pickpocket that act from Penn and Teller?
Did they notice?
Tell the truth now - that dog is the mastermind behind the whole show, isn't it?
Makes it easy for her dentist.
There are probably some other Guinness World Records she could attain. . .
This got me to caliper my own mouth, it's just about the same height at 6.518 cm, but much smaller across at about 8.8 cm. But, as a male, it's nothing to get excited about. Can confirm it does feel like a super power sometimes, especially when eating large sandwiches.
I always think of this little guy whenever one of these "biggest mouth ever" posts shows up.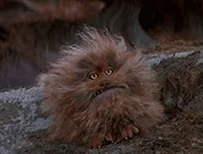 The adult entertainment industry would, hmm… never mind
Her dentist is prolly terrified they'd fall in and never get out!
her mouth is more impressive than a whale shark's!