Friends don't let friends invade Ukraine.
Seems like a viable plan to me!
Um, sorry, but can you run that by me again, please? And this time in English.
I mean, I recognise the words, but the order they're in just defeats my ability to parse the information.
That orange make up is having a hard time hiding his old ass face. Dude looks like crap.
Anyhow…
Resolve the Ukraine situation in a single day?
I'm thinking maybe he has a magic ring?
Either that, or he'll just tell Russia they can have Ukraine, period.
That's the sort of clear thinking he's become famous for - it's right up there with his exhaustive/exhausting knowledge of the nuclear triad - buckle up gentle reader:
Well, first of all, I think we need somebody absolutely that we can trust, who is totally responsible; who really knows what he or she is doing. That is so powerful and so important. And one of the things that I'm frankly most proud of is that in 2003, 2004, I was totally against going into Iraq because you're going to destabilize the Middle East. I called it. I called it very strongly. And it was very important.

But we have to be extremely vigilant and extremely careful when it comes to nuclear. Nuclear changes the whole ball game. Frankly, I would have said get out of Syria; get out – if we didn't have the power of weaponry today. The power is so massive that we can't just leave areas that 50 years ago or 75 years ago we wouldn't care. It was hand-to-hand combat.

The biggest problem this world has today is not President Obama with global warming, which is inconceivable, this is what he's saying. The biggest problem we have is nuclear – nuclear proliferation and having some maniac, having some madman go out and get a nuclear weapon. That's in my opinion, that is the single biggest problem that our country faces right now.
I have wondered what Trump's hairstyle is called; apparently it is a "Lunatic Fringe".
Said the man who wanted to nuke a hurricane. HE IS THE MADMAN.
OMG, a CPAC-derived GOP administration. That's just nightmare fuel.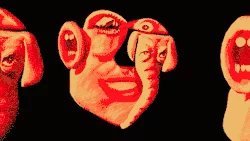 We need Yogi Berra or Casey Stengel to. translate this.
Well, I had t stop at 1.10 :I will prevent W3, very easily. Go out on a low note I always say.
Putin was ready to split it with Poland at one point
but that wouldn't last long
This topic was automatically closed after 5 days. New replies are no longer allowed.