It wasn't so much the hats as all the accessories that got me to laugh.
There was a season of Ru Paul's Drag Race where he consistently wore a variety of colors of this oversized hat and i just… hated them every time i saw them
"No YOUR hat is big and dumb!"
I actually found a near perfect slouch hat on
Zara.com
sold as a women's hat. I now have two great slouch hats - but my older one needs the brim shaped more.
But… But… Those are splendid hats!
If others think they look good that's cool but i just… i hate them so much

For more big hat humor, see: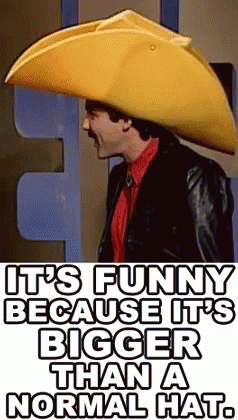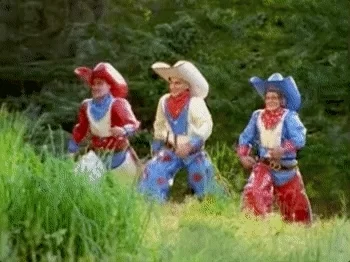 yeah, this was definitely a male trend around that time

this one is my favorite, a millionaire wearing this. oooh, you're so authentic and artsy.

I love you, Tip, but no

as someone who likes hats, i'm so torn about this. hats are difficult to pull off, so whenever i see someone who can wear a hat like that (male or female) and pull it off, i'm more just jealous because i can't wear them and make them work.
If you're hat is difficult to pull off, is it not just too tight?
This guy looks like an action figure wearing a hat from another toy, a little out of scale.
you have to see kate beckinsale's instagram account it has a doozer…
but that is the fashion-seanacee…
He's happy because he got lucky (to find such a large hat).
This topic was automatically closed after 5 days. New replies are no longer allowed.