well we know one of them is a plumber if that narrows it down at all.
distinctive jacket, my ass.
Technically, it was "distinctive jacket" and "his ass."

Welcome to BB!
Come on, science … fingerprints, facial recognition, gait analysis … why don't we have butt-crack profiles yet?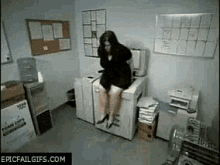 Xerox machines are too problematic?
Maybe they can cross-reference it with footage from the beginning of colonoscopies.
… did someone order a grim-and-gritty American reboot of Trailer Park Boys

Got a photo of the second guy:

We know they don't need the money for crack - they already have plenty!
Obligatory Breaking Bad reference:
This topic was automatically closed after 5 days. New replies are no longer allowed.