The Bear understood the assignment.
I don't know that a low-budget horror film could afford a trained dog, let alone a trained bear.
In other news, yikes! That was pretty scary. I like that the dog stops off to see if the bear is pursuing.
I live in a part of the country where you can't entirely dismiss the risk of a bear. I don't live in Florida. I have to say, that risk would not have been on my mind there. I didn't even know bears lived in Florida. I wonder if it was wild or escaped from captivity.
Is there any other type of horror film? I was about to pull out a bowl of spicy popcorn til i realized it wasn't a film.
Little doggo also knew his assignment… in this case a perfunctory token "yip" for the record.
Sign me up! entropy is not always negative.
That dog was lucky! I could imagine some folks closing the door and breathing a huge sigh of relief before someone asks, "Hey, where's Fluffy?"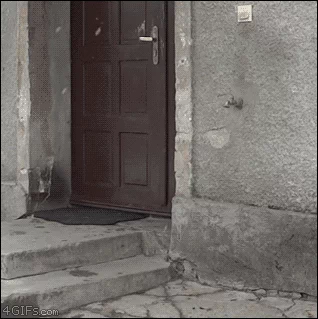 Don't run from bears. If you see a bear, even if it's charging you, stand in place and make a lot of noise. And then back away slowly. Running = prey.
Never let your guard down!! Bears are insidious!
The bear was merely exercising their 2nd amendment rights, just as the framers intended.




Maybe it had retired to the area?
For a black bear (likely the only kind on the east coast), you are exactly right. Don't run!
However, don't try that tactic on a brown bear, grizzly bear, or polar bear.
The best survival tactic with bears encounters, here's the rhyme:
If it's black, fight back
If it's brown, lie down
If it's white, good night
I watched that gif for awhile last night. Thanks, it was calming to imagine a long parade of dogs entering that house.
In the moment, I'd like to think that I wouldn't panic. If I'm not able to distinguish coat color, my only hope is they don't want food marinated in pee and

!




If the bear is looking for a chew toy, game over.

Good afternoon! Have you heard the good news about Bear Jesus?