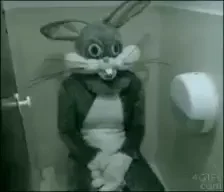 That used to be such a creepy gif, but after a few decades of the Terrible Twenties, it just seems like a soothing suggestion there there might just be room in the shelter for one more.
Wow. So many of those statements appear to be actually true of the GQP.
Lock Them Up! Lock Them Up!
The nerve of that woman masquerading as a man. /s
This topic was automatically closed after 5 days. New replies are no longer allowed.