Knights armor is actually much more flexible than you thought.
But I already thought it was flexible.
For some excellent armor critiques, see here:
Two thumbs up, I love her channel. And yep, I'm right there with you. Armor that's not flexible would be hellishly useless to fight in.
Just stab me now.

@leicester That guy in plate armour has a much easier time of getting off the floor than I do in my day clothes
The one on the climbing wall is pretty amazing too.
I'd be interested to know how much the high-performance stuff like that would have cost. Given that it would have been custom-made by an extremely skilled armorer and his assistants, I'm betting it didn't come cheap.
Assuming the really good armor was only affordable for nobles with a certain level of wealth, I'd be interested to know what the second-rank knights did. If you were a younger son or a provincial noble, did you go for chain-mail and a barbute like everyone else, or did you get a suit of plate that wasn't quite as good as that worn by your wealthier peers?
I guess the question is: we know that there was some amazing stuff available for the top of the food chain; was anyone else lumbering into battle wearing the kind of clunky sardine cans we've always imagined plate to be, or was there a sharp cut-off beyond which crudely-made plate became so inefficient that it made more sense to drop straight to chain-mail? (Or, more likely, a hybrid of chain plus a cuirass and other independent pieces)
Some suits of armor took as much as one year's worth of highly skilled labor to build. I don't recall reading about prices converted to modern currencies, but we can compare that with modern prices for skilled services. When you consider today's wages and shop rates for "ordinary" skilled labor, i.e. a typical plumber goes for $150/hr, that could easily exceed a hundred thousand 2022 dollars for a nice but ordinary suit, and well north of a million for the "fit for the King" models.
It's easy to compare them to something like car prices and think "that's not so bad", but keep in mind there was very little "middle class". You were most likely a peasant who never saw a gold coin in your life.
But if a peasant had need of a suit of plate mail, surely they'd be predestined to find and battle a dragon who had enchanted armor in it's hoard. If you think about it, the peasants actually have it better than the locals lords, lords can't just go gallivanting about the countryside, they have real responsibilities!
That video didn't show what was going on with the legs, but a lot of people found that it was much easier to move quickly while wearing a metal skirt instead of clunky and uncomfortable metal trousers.
(The first image shows the real, historic armor that was used as the model for the suit of armor in the Disneyland Haunted Mansion ride. They made a fairly accurate reproduction of the top half but ditched the skirt for the Disney version.)
1441 – Ready-made Milanese armour – £8 6s 8d (approx £9000 in 2022)
Bespoke would, obviously, be much more.
A century later a Chief Armourer was making £1 6s 8d per month (same source).
The second video shows examples of exercises performed by 14th C knight (Jean Le Maingre) (probably others as well, but he wrote a treatise)
Indeed. I really liked the footage of the guy running a road race in his suit of plate. It must have sounded like someone throwing a metal bin down a flight of stairs.

I thought the film Excalibur decisively proved this. When Uther returns from battle and meets Igrayne, he vigorously demonstrates his armor's full range of motion.
No video 'cause I'm not getting flagged today.
I learned from an Adam savage video how it's all hinged together with leather straps (not metal hooks or hinges like you might imagine) which helps explain that flexibility.
Flexible gothic?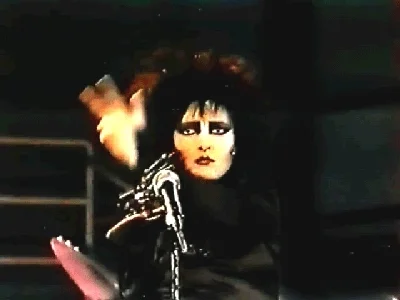 Somewhere there exists an interview of Siouxsie mentioning what a bad idea it was for the band to wear leather in Hawaii. Pretty sure the rest falls into Jill Bearup's "It's not armor" category.
Per Kozlowski's "U.S. Space Gear", the problem of space suit mobility inspired 50s/60s research in medieval armor joint articulation and how knowledge gained thereby could be used in developing advanced hard suits for space. The result: Per Kozlowski, "… suits began to look like suits of armor." Below is NASA's result for a then proposed AX-2 hard suit for the Moon… unfortunately, never used.
Litton also designed a hard suit, the RX-5. The suit, as such, was also never used, although certain elements in its design found their way in the Space Shuttle suits.
The Cosmosphere has a prototype hard suit from the Apollo era, but I don't recall the name. It might have been a Mark 3 like in your example. I am not sure if they still have it or have it on display as they now have a lot more flown or used back up suits to display.