Yes, but can it play the piano?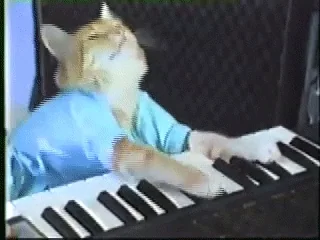 Everybody was Kung-Fur Fighting …
If I could do that, that's all I'd do
I lived with a cat that would jump from the floor to the top of our standard refrigerator, probably around 6 feet. Although it wasn't a flat landing on top, there was likely some pull/push to get over the edge. But still seemingly effortless.
Same here, Except that when she reached 15 or so, she'd try it and not come anywhere near the top of the fridge. At which point she'd look at us like "What are you looking at? I was merely jumping near the refrigerator. I wasn't trying to jump on top of it!"
I like the total lack of interest from the cat on the poof.
I'm astounded how well the play was kept in frame.
Now I want to see the Slo-Mo Guys do something (non-destructive) with cats.
Cat sneezing at 1,000,000fps?
One of my favorites of the genre is this oldie, possibly because of the soundtrack.
This turned up while I was looking for that other one.
This topic was automatically closed after 5 days. New replies are no longer allowed.