He understood his assignment.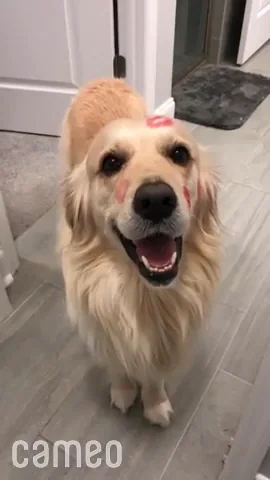 FYI: Your embed will not play without linkout & login to Instagram
Wait...are people paying for cameos from dogs now?!??
And is completely useless to those whose Instagram accounts were messed up.
Dog did not look concerned to me, just paying attention to little friend.
Weird. Works fine for me, and I don't have an ig acc't. I'm running Firefox and lotsa ad- and script-blockers.
Here you go … free of instagram.
Funspoil here.
Dog is inviting one of his assumed pack to play by body language and tries to play when hooman moves in towards it. Body language of hooman is not entirely clear to dog, so it moves a bit out again.
"I am not sure this is Ball. Are you sure this is Ball? Ball is good and great, but this no look like Ball. Okay… okay… okay you slide down, but still not Ball. Where Ball? You have Ball on you? I miss Ball. Will you throw Ball for me? (sigh… flumpf)"
Goldies are the best. My goldie is getting up there in years, but what a Good Boy he is. Although, yes, a bit obsessed with balls.
That doesn't make it less fun
This topic was automatically closed after 5 days. New replies are no longer allowed.