I hope the cruise company's insurance will pay to rebuild the pier.
Hahaha. No, if anything they'll take the Al Czervik approach and charge the port for scratching their anchor.
"All ashore, that's going ashore! NOT YOU, SHIP!"
only minor cosmetic damage to the ship's stern.
It looked like the collision shifted the course of the boat's path, even more than the steering was doing. I wonder what "cosmetic" means in this case.
So, no alcohol involved?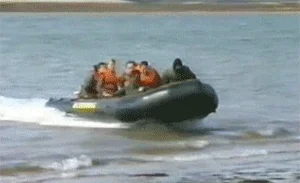 i see you found the leaked footage from the training camp for desantis' Floridaman SEAL Team in high-speed beach deployment exercises
Maybe it was a typo, and the ship suffered "minor cosmic damage".
Maybe karmic damage? The Harmony of the Seas will never know peace henceforth.
"got that goin' for me, too"
Listening to all the people in the video screaming and carrying on as the ship hit the pier sounded like they thought they were on the Titanic or something. Much more entertaining than watching the actual collision IMHO.
To seriously nerd out, you need to note that a ship doesn't collide with a pier, it allides with it. Word for the day.
Captain: "The Sun was in my eyes!"
"how fast do i approach the dock?"
"only as fast as you are willing to hit it"
v. cool new word. Of course, had to duckduckgo it.
Here's the thing: large ships typically do not dock under the direction of the ship's captain or crew. Normally, a pilot, employed by the port, comes aboard outside of the harbor and directs the ship into port. Similarly, the pilot directs the ship out of port and the harbor and then rides a tug or other small boat back.
So unless the crew failed to follow the pilot's directions, it's not the ship's fault or responsibility.
Why would they build a pier that sticks so far out into the water? Plus I only saw a single orange sign - very hard to see from a vessel this size. Also I don't think it had any kind of protective railings or bumpers, I bet the pier owner will be held liable for damage.
/s
Honestly I was hoping for more groaning bulkheads or something.
I like the Oh Shit Bow Thrusters right at the end, as the ship continued to coast towards the real pier (not just the outrigger pylons, which are no match for a ship that size).
The energy in something that massive moving even very slowly is quite impressive. F=ma!