Ugh, I hate it when that happens.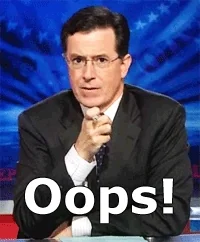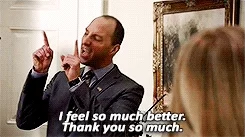 You may be thinking to yourself, "Hey, where am I gonna get my egg sandwich today?" and "I bet Marco's bodega is still open. Marco never closes."
This seems more aimed at a dirty-bomb scenario than anything involving an atomic or thermo-nuclear bomb. I guess this might be helpful if there's a terrorist-built small bomb in the single kiloton range, but if its anything professional (i.e. in the hundreds of kilotons or megatons) good luck. I'm guessing this is mostly actually aimed at the outer boroughs and suburbs, and assumes it is just a rogue actor with only the one bomb. I love how they assume that radio and TV will still be operational – even if there isn't a high-atmosphere EMP-generating burst nearby, I remember hurricanes and power outages in NYC, and I doubt even a single local station will be up and on top of things enough to be useful for several hours, possibly days, assuming they come back on the air at all.
Whatever happened to:
Bend over
Kiss your ass goodbye
?
Step 1: Get inside fast. All the buildings have been leveled, but sure, get inside one of them.
Step 2: Stay inside. Might as well, the world has gone to hell in a handbasket and roaming bands of mutant cannibals now rule the streets.
Step 3: Stay tuned. There's no power, let alone remaining television stations. Tune into your brain waves. Listen hard. Do you hear? Do you hear the voices? Listen carefully to the voices inside your head. Listen hard!
No thank you. In the event of a nuclear war, I'd like to be dead as soon as possible, please.
Me too.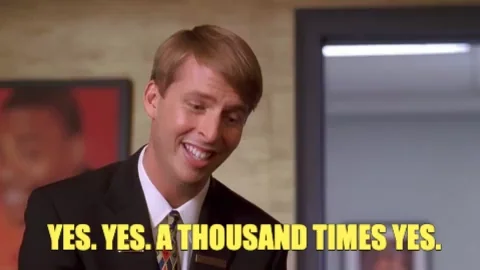 In 1980 everyone had some portable AM/FM radio running on batteries, on the other hand putting a poertable AM transmitter running on a diesel generato was feasible not only by military or professional broadcasters, but even by some amateur radio operator. I know some HAMSs that have a decommissioned AM transmitter in working condition in the shack.
Nowaday people doesn't listen normally to analog radio, or radio whatsoever but relies on internet. Eveng rigging an emergency trasmitting sttion won't have any listener.
I love the Logan's-Run-esque outfits they're wearing near the end.
Anyway…
Posted this in a previous surviving-a-nuke thread. When I was a kid in the 60s my sibs and I played this "game" where, when the TV networks would play the Emergency Broadcast System test message and sound (eeeeeeeeeeeeeeeeeeeeeeeeeeee), we would pretend to scream and panic and run into the bedroom and hide under the covers so we couldn't hear the "evil" sound.
I suppose that was actually a legitimate "duck and cover" exercise for my very weird family.
Plugging a set of earplugs/earphones into a mobile phone allows it to be used as a FM receiver.
It's worth keeping a set where you spend a lot of time (Workspace, vehicle or whatever) for this reason.
And it won't do any harm to test out and maybe pre-program your local stations into your phone.
Make sure you have a charcoal outfit in your wardrobe. Because charcoal goes with everything.
Oh gawd is there another new global crisis in the last 12 hours I didn't know about

Basically what I do every day when I get out of work anyway.
If they can manage to sneak a VW Caddy into the USA (yes, I'm pretty certain Volkswagen doesn't sell that model there, yet it's in the video, with the headlights and logo removed), of course it's going to be easy to sneak a nuke into the country.