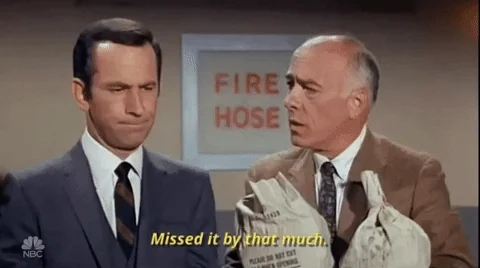 But seriously, just a few feet the other direction and the truck would have punted the [whatever] that was wrecked in the median into the other troopers further away from the camera.

These are among the more common ways LEOs die while on duty. Shootouts are way down the list.
Fucking Hell! A white truck on a white background! He was lucky he spotted it.
@DukeTrout Seeing Harry Morgan in that gif gave me a flashback to the death of Henry Blake in M.A.S.H. It is amazing how affecting TV can be, even decades later. I soon warmed to Sherman Potter when he took over as unit commander.
Yuuuup. Traffic duty is probably the most dangerous part of being a cop. Ask any state trooper or highway patrol officer. Bad drivers and vehicles in general are a bigger hazard than anything else. Tho COVID was pretty far up there for a while.
They look alike, but it's not Harry Morgan. Edward Platt played the chief in Get Smart.
Wow! That is odd.

But right after the truck came barreling through, and he barely escaped with his life, I cringed when he turned his back on the oncoming traffic to walk the other way!
.
It's hard to tell from the cruiser's dash cam exactly how much clearance that semi had, but the video shakes like it might have been clipped. If that truck had hit it any harder, it would have been pushed right into the officer in front of it. He would not have been able to dodge that.
Yes, that. And which highlights the absurdity of LEO having military-grade hardware.
That truck amazingly threaded the needle between the cop car, the wreck, and the sign without more than glancing off any of them. You can see by the tire tracks that there was no clearance on either side of that path.
As I understand it, this is the most common cause of death for cops. Second-most common is Covid. I'll leave the reasons for that as an exercise for the reader.
It looks like a mudflap flying down range as the truck slides along. It may have brushed against the cruiser, ripping a piece of the trailer free.
This topic was automatically closed after 5 days. New replies are no longer allowed.