Marvel's first black characters were Luke Cage, Black Panther, the Falcon, and Giant Man (Bill Foster). None had electric powers. Storm came later (1975?).
Except for the origin of his powers:
But it does seem a thing, though. And no, not ALL of them, but enough to make it a pattern that probably should warrant our attention.
I haven't seen the video, but is it something to do with Shango being the only Black (semi-) mythological figure that writers could think of, other than Legba / Samedi type tropes that would have seemed problematic even in the eighties?
The short answer is DC and Hanna Barbara not wanting to pay royalties and/or copyright.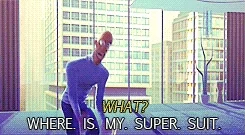 Static Shock, DC.

What about his mirror-mirror nemesis who nullifies electrical powers?
Luke Faraday Cage?
Virgil is so popular here. I think that popularity was gained because the stories were very good, the charisma of the main character and the constant reruns.
Plus, presumably, it is easy for kids to cosplay this character's powers if they have sneakers and access to a polyester rug
Your go-to fantasies of strength and invulnerability overlapped with existing prejudices of Black athletic powers and thicker, harder-to-bruise Black skin. Flaming powers might have triggered thoughts of Watts and other riots.
Electricity is a nice, high-tech, 20th century superpower.
Having gotten around to watching the video - he went with the easiest to argue explanation. The first big Black superhero with these powers, Black Lightening, showed up in DC and when Hannah-Barbara (sp?) did not want to pay out royalties to use him to the creator, they just made a new one - lather-rinse-repeat.
An argument could probably be made (especially given the roots of Luke Cage's powers, electrocution in experiments where he was wrongly imprisoned) might have to do with the popularity of the electric chair in the 20th century as a means of execution, which was more likely to be carried out on Black men. The youtuber did not go down that particular rabbit hole of WHY electricity.
It can also be a means of rejecting those sterotypes and turning them back on the oppressor.
Used to electrocute hundreds if not thousands of Black men during that time - at least one as young as 12…
This was, unfortunately, my first thought and I hate it. The "coincidence" is unavoidable.
I mean, Luke Cage specifically was wrongly imprisoned and then gained his powers after being electrocuted in an illegal experiment being run on prisoners. It was self-consciously commentary on how Black men are treated by our prison system and have been for all of our history.
The video isn't wrong about the royalty issues creating endless copycats of the same kind of character with the same kind of power… he just doesn't go much deeper than that.
Any coincidence would be unavoidable. Can you think of a violence possible from any fantastic fiction that has NOT been used to hurt Black people?
No, don't answer that: if there is something, you'll give certain people ideas…
Again. Look at the origins of Luke Cage (who gained his powers from electricity, rather than using electricity as his superpower - but still). The circumstances are unmistakably a reference to how the legal system has systemically been used against Black men through out the 20th century. I think there is a pretty strong argument to be made for this trope being (in part) an attempt to harness a specific form of state-sponsored violence regularly used against Black men and turn it back on the oppressor. I do suspect that Luke Cage would have been influential among people writing the DC set of characters who are the ones mostly under consideration in this video.
Here's a strange answer for you.
Melanin is actually a conductor of electricity.


I wish electricity was my superpower.
Just seen my energy bill for the next quarter.