They ALL had a blockbuster cast! Earthquake, The Towering Inferno, The Poseidon Adventure… those were all my favorites when i was a kid. Saw Earthquake in SENSURROUND!
"Hey, don't arrest me, I didn't sting you. . . arrest the bees!"
OH man, I saw The Swarm on TV during like a Saturday afternoon movie or something like that. Freaked me out as a kid.
Late to the party but: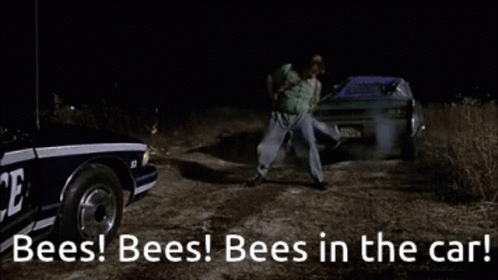 … except evicting people, that violence is fine

"And…and the bees were laced with Fentynal! We could have all died!!" The cops, probably.
Does that make her a "Killer Queen"?
Self-reported, I'm sure. A lot of people think they are allergic to things because they don't know what real allergy symptoms are and they've never actually been tested. Like how half the damn population thought they were allergic to gluten in 2015 because hipsters suddenly learned celiac disease is a thing and they wanted an excuse to eat more bacon.
I had a friend who was 100% convinced he was allergic to "food colouring" despite that definition including a whole family of different chemicals, and his symptoms were vague and inconsistent. He ate things that had food colouring all the time (everything does) and as long as he didn't know about it, he was magically fine.
That's…just not effective.
Bees are EXPENSIVE
They're terrible attack animals
What's the end game here? How is the soon-to-be evicted resident going to use the space if it's full of bees.
Where's the NYT passive voice, third-person, cop-shielding language in this report?
It should read: "Police officers stung during attempted eviction; bees suspected"
The bees resisted arrest so the cops had to smoke them.
I'll see myself out
Oh, good grief. There are so many terrible puns on this thread.
Can't you lot just beehave yourselves for once?
This topic was automatically closed after 5 days. New replies are no longer allowed.