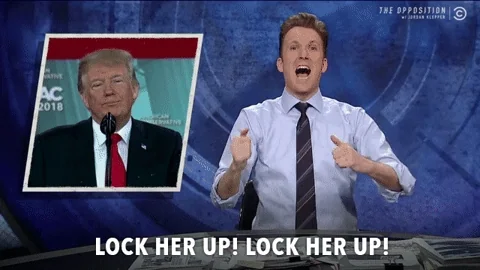 Prepare to be shocked when the police, happy to deploy battering rams and smoke grenades to bring in the pettiest of criminals for overtime pay and the love of the game, do absolutely nothing to execute this warrant.
Well, she doesn't have any young 'uns to worry about anymore.

A 101 year old former Nazi guard was just imprisoned last week. I wouldn't mind seeing this lady arrested and charged with kidnapping and manslaughter. Not one little bit.
Kina depressing to learn she's still alive, but yeah, good news that she can still die in a cage. I can't think of anyone I'd have fewer reservations saying that about.
Wait, wait - there was a warrant for her arrest to face the same charges as the two men, and the only reason she never faced trial, as she was legally supposed to, was that the white cop was like, "Nah, I don't want to - don't want to bother her"? When we talk about privilege, that's what we're talking about.
While both men were named in the same warrant that accused Donham of kidnapping, authorities did not pursue the case following their acquittal.
So the fact that someone decided not to serve the warrant at the time, when she would have been acquitted, means that as a result there's actually a chance she could be convicted? The expression "justice deferred is justice denied" takes a turn to the ironic here…
The reason for my statement above.
"Oh my, we can't leave those poor white kids without a mama, can we?"

We are talking about precious white womanhood here… /s
This topic was automatically closed after 5 days. New replies are no longer allowed.