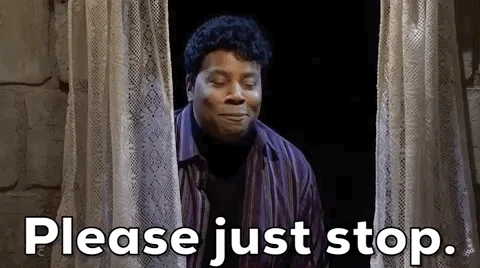 Also an apparently atrocious Adam Sandler movie.
And a considerably less atrocious Marvel movie.
Evergreen gif…
I can just see a group of people sitting around in a writers room for three hours…in dead silence…and suddenly, just to break the tension, someone blurts out "Pac-Man!"
Then this shit happens.
Credit goes to: Emmanuel Rodriguez
Cool and creepy. That's a lot of teeth.
At least four different studios have also announced plans to make a movie based on the "Monopoly" board game over the years but so far no one has followed through on the threat.
Didn't they do make this already as THE MAZE RUNNER?
(Bangs head on table until unconscious)
If it isn't that astronaut necking anxiety pills because he keeps seeing the ghosts of his dead friends then no, do not want.
At first blush my initial thought is 'What can you do with the Pac-Man franchise?' and then I realize that there were actually some games that had some degree of plot to them which -could- potentially give it some depth to work from?
Pac-Man 2: The New Adventures - Wikipedia
Barring that initial thought though: Given we've had decent luck with recent live adaptations like Sonic (including the sequel IMHO. I enjoyed it. Haven't paid attention to the public reception.) and Pokemon with Detective Pikachu. I'd certainly give this one some leeway and see where they take it. May just be pleasantly surprised.
Ok Mr. The Rock, your motivation in this (and every) scene is that you're afraid of ghosts because they will kill you. The only way that you can escape them is to eat every bit of evenly distributed food in the maze. Once you do that, well, have you ever seen Groundhog's Day?
Also, we're already planning the sequel. How do you feel about wearing a red bow?
But wait, I've got a treatment, here me out:
Mr. Pak is a food blogger in New York, haunted by the ghosts of his past, finding solace in food…
Jarmusch directs it.
(It's at least a faithful adaptation as anything else coming out of Hollywood, even if it's going in a rather different direction…)
Pac-Man enters the real world and hilarious fish-out-of-water hijinks ensue before he defeats the Giant Glowing Space Beam with the Power of Friendship and helps the lovable loser get the girl. ~fin~
We could go back to it's origins, and have the film be a critique of capitalism with Mr Monopoly as a Gordon Gekko style villain.
Because I live to play again another day, Pac-Man!
I play each day so that my game will keep improving
Some day I'll figure out just how the ghosts are moving
Can't wait to see the big budget live action movie
With Richard Simmons as Pinky, and Patrick Stewart as [Pac-Man]
I would watch a film based on the Marcus Brigstocke joke
If Pac-Man had affected us as kids, we'd all be running around in a darkened room munching pills and listening to repetitive music.