Absolutely egregious. And, on camera. No doubt they will lose their . . . .
In a written statement, a Delaware State Police spokesperson said the incident was subject to an internal affairs investigation and a trooper involved was disciplined in line with department policy.
Oh.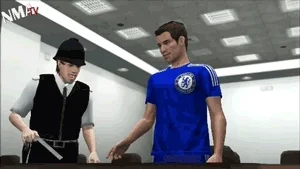 Wow, the writer's strike is really taking it's toll!
As punishment, "atta boys" and high fives were issued to the officers multiple times, as per department policy.
It really doesn't matter how minor the (perceived) infraction is to the cop, does it? ACAB, in all cases, at all times. Forever.
Right, because as they see it they are in a position of power, which means they can punish people if they want to.
The article links the full story.
These police officers don't have enough legitimate work to do? SMDH.
"Take a moment to remember these cameras are known to be recording, so these guys are really just that stupid."
I think it's less stupidity than it is the constant feeling that no matter what you do you won't be held responsible for it. If you can shoot and kill unarmed people with impunity, you probably don't spend too much time thinking about any possible transgressions your dash cam records.
Just think about what the cops do with protestors who really piss them off (e.g. BLM).
And this is the thing about when cops get caught violating civil rights - harassing, detaining, arresting, robbing, beating, even murdering people - they've already inflicted the punishment on their victim, what do they care what happens after that (especially when it's some third party, i.e. the city, paying a fine for their crimes). There's no consequences unless the cops face criminal charges (or are fired and blacklisted from ever becoming cops again), and they have no reason to stop because abusing their authority is why they became cops in the first place.
By Jove! I think you've got it!
This topic was automatically closed after 5 days. New replies are no longer allowed.