I think we've learned from Ukraine about the value of drones.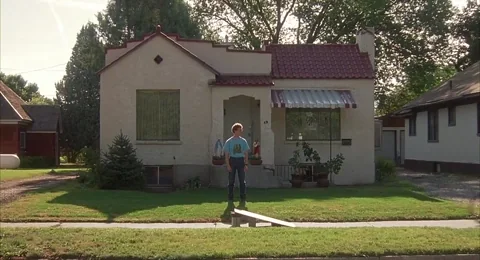 Cops chased down a suspect in a misdemeanor traffic stop, and fired a taser amid gasoline fumes in an attempt to make him comply.
Holy shit they actually built one of those Riot Control vehicles from Soylent Green, that 1973 sci-fi movie set in the futuristic dystopian world of 2022.
Hopefully this is a starting point that pushes legislators on the fence in the right direction:
Good god that is terrifying shit. How can anyone look at that and think "this is the world I want"?. My mind is reeling at this and I hope my American friends don't have these monsters running down their streets soon.

If it comes to pass, well, looks to me like a few sandbags will render that machine useless. It's powered by a skid steer loader which is clearly at the very limits of its capacity, judging by that video. It will have no traction or pushing power to speak of, given that huge centre of gravity way out in front. The camera required to drive it is a weakness also. A paintball gun would make short work of blinding it, making forward progress impossible.
Resist.
My guesses re that horrible equipment:
it may be a rough draft (all design being iterative)
some contractor profits from its sale, even if this iteration is unrobust
it may exist as much for the psychological benefit of the police as the psyops mojo it is meant to project out to, say, kettled protesters; perhaps the contractor was doing a proof-of-concept
use of such a machine is a signal failure, a milepost pointing to the dehumanization of law enforcement officers and protesters alike (why address problems or grievances when you can just use tear-gas, water cannon, pepper spray, LRAD, rubber bullets to beat people into submission, the people ("the public") that LEOs are supposed to serve and protect)
Thanks. It's as bad or worse in a lot of other places too, and I feel bad for all who protest peacefully, in solidarity and good faith, against injustice and corruption. I can entirely imagine LEOs explaining to me that at least here in the U.S. we are not mowed down by automatic weapons fire, and that horrible machines like that glorified skid steer are surely the far kinder option.
Yes.
And keep breathing.
Some days, surviving looks a lot like winning.
This is similar to my response when cops claim they shot unarmed people because they were afraid. Those folks are a bunch of cowards with badges and guns who protect themselves first.
Including shooting people who have disarmed the original shooter:
Despite the issues, they all still have jobs:
The enablers are at every level of government, but will there be consequences?
Story time.
Over the winter, I spent a few months in Georgia and Tennessee, working on my skoolie project. Georgia had this amazing community just outside Metter where I met some great friends and we all helped each other with bus building stuff. Great place, great people, except for the incident.
Short form: The one guy that always had a sketchy vibe decided to beat the everliving fuck out of his girlfriend. Beat and stabbed her and broke her face in multiple places, pepper sprayed a half dozen of my friends, and ran off somewhere.
Police and ambulance show up. My buddy's wife has spent the last half hour holding the primary victim while she lost a quart or two of blood and drifted in and out of consciousness. Cops get a couple statements, including the part about how the dude has run off somewhere nearby on foot, that we know he has a handgun (on him? in his bus? who knows?), and that he'd threatened several people before running off.
And then the cops just fucking leave, because "well, there's only three of us on tonight."
Half an hour later, guy comes back and sets their bus on fire. Police and fire dept show up and THAT'S when they catch him. Never found the gun, incidentally. It's probably still in the woods somewhere.
Fucking useless fucks. We're all lucky nobody got killed.
Heh, I'd really like to see this become a thing. Every time I see one of those blue line flags my blood just boils.