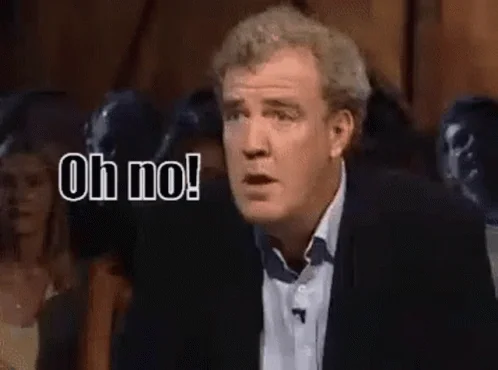 Hasn't Clarkson also been cancelled?
Yes, in that he is a dip shit that says and does bad things without suffering any real consequences
Indeed, more extreme measures may be necessary.
First, see if anyone can put forth that he is mentally incompetent to manage his own affairs.
Yeah, back in the 90s a partner of mine gave me a very nice, framed print of the Dilbert strip about the practical use of having a high IQ being very low in reality. For years it was a nice reminder of the relationship, but it was tossed in the trash years ago thanks to this guys assholery. It's always sad when a shitty creator taints the work and that ripples out in all kinds of ways

"Stick your fingers in his ass"
Your dad's ass?
Honestly, what the hell kind of disturbed childhood did Adams have?
And why inflict it on us?
Right?
I mean, that such an image would even occur to him, let alone occur as something he should say out loud.

It's just damn disturbing imagery.
Henceforth may he be known as Scott "Stick Your Fingers In Your Dad's Ass" Adams.
There may be some issues there…
(Ugh, no more).
It could be applied in many ways to many people. Sort of a new "keep fucking that chicken"!
Or " Yeah, Jordan Peterson really stuck a finger up his dad's ass in that tweet"
ETA: This also sounds like the worst MBMBAM catchphrase parody ever
Indeed. Tougher call with him though, since he always already seems like he's got his fingers stuck up his own ass (along with his head).
That's why the good Lord gave us so many fingers and so few orifices. We have to cooperate to achieve everything that we could!
Obviously, not always the case. Dolly Parton is richer than Adams, and she's one of the nicest people on the planet. And let's not forget Keanu Reeves.
I believe people get rich enough to show their true selves without fear of repercussions. They were always that person inside
(That applies to the bad ones and the good ones!)
Edited to add: Usually. Anyone can work on themselves and show great improvement in how they treat others and how they feel about themselves as a result
Well, in all honesty, i think he's on tk something. If you assault someone, they may respond with violence. Not sure that any kind of deep insight, but i guess it's true. Where he goes wrong is assuming this is limited to encounters with men.

Add the Washington Post to the list. I had emailed them yesterday to say I couldn't & wouldn't subsidize Adams via my subscription.
(Free link)
Just to add to that from way back in TMW 1993:

/Tom Tomorrow is an alt-weeklier you should support.
Weird how he seems to think that's not creating the "implied violence".
I guess it's just a common friendly greeting where he comes from.
Yeah this tells me that Adams was always a piece of shit. And it does change how I view Dilbert now. Some things I took to be satirical I now think weren't intended as satire. It's the same with Harry Potter and Rowling. Her blatant transphobia has made me take a second look at a lot of stuff in Harry Potter, and I now recognize that a lot of it is problematic, and frankly I'm a little embarrassed I didn't recognize that sooner.