First Fred Rogers, and now a crowd surfing Sam the Eagle with Dr. Teeth. Maybe this isn't such a bad day after all.
Sam the Eagle always scared me as a kid and I don't know why. I'm over that now and thoroughly enjoyed this video.
I, for one, am glad they finally let Floyd Pepper rip a proper tasty bass solo.
The Electric Mayhem is the best! Having them cover one of my favorite songs is even better. Very well done!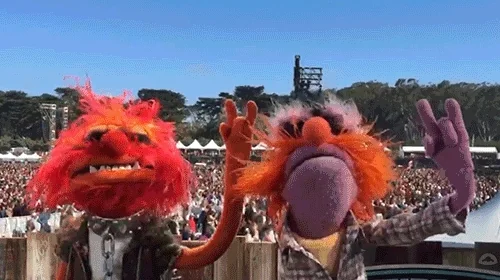 Love this song. Love the Muppets, but I am so glad this ended up being something that could be read as a dream sequence. Muppet characters don't really have an arc that would reasonably allow Sam to shift his mentality and let loose in that way. i think the thing that's made the individual Muppets last as long as they have in the cultural zeitgeist is that they're relatively unchanging archetypes.
Agreed. Before the end, I was thinking "Ok, what'd they slip into Sam's drink?"
If they put together a live action concert tour with 𝐷𝑟. 𝑇𝑒𝑒𝑡ℎ 𝑎𝑛𝑑 𝑡ℎ𝑒 𝐸𝑙𝑒𝑐𝑡𝑟𝑖𝑐 𝑀𝑎𝑦ℎ𝑒𝑚 , it would sell out. Muppeteers, Muppets. and voice actors singing the classics with interleaved segments of terrible punny jokes and high jinx is something that I think would be successful.
I'd also settle for a variety show with 𝐷𝑟. 𝑇𝑒𝑒𝑡ℎ 𝑎𝑛𝑑 𝑡ℎ𝑒 𝐸𝑙𝑒𝑐𝑡𝑟𝑖𝑐 𝑀𝑎𝑦ℎ𝑒𝑚 .
This topic was automatically closed after 5 days. New replies are no longer allowed.