Another reason to dislike Musk: he makes me want to cheer on Zuckerberg.
I guess they'll have rules.
… it's Elon's blog

An event which makes me wish i had the tiniest of cartooning abilities; something along a storyboard of:
The two approach the thunderdome in the finest silk samurai attires
Both posturing with flying cranes and krav maga vocalizations [4 panels]
An epic slap fight ensues [1 panel]
Both depart in a scrum of sycophants declaring their opponent was lucky to escape with his life
and thus evil is conquered for another day [insane duck emoji]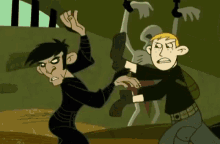 It'll happen if he monetizes it.
If he gets knocked down then X will mark the spot.
Like there aint enuff conflicts in the world…
'charity for veterans'… hmmm I wonder if that will be an actual charity that cares for ex-military and helps them reintegrate into society; or one of those boutique tax dodges available to the super-rich that spends all its income on lavish parties that you and I could never go to in order to 'raise awareness'?
Oh there are lots of good causes that I'm sure it will go to. Supporting veterans of the January 6th insurrection… Russian veterans of the Ukraine war… You know the heroes that Elon admires
LOL, there is no way in hell Twitter's servers can handle that.
Stupid asshole with poor impulse control talks big, his bluff is called.
Stupid asshole doubles down on talking big, his bluff is called again.
Stupid asshole starts looking for an out.
Seriously, every other story about Musk gives me flashbacks to kindergarden.
… so who's going to tell him an adamantium skeleton is not a real thing he can get

Wow, neck surgery before facing a jiu-jitsu fan? Mama Musk is really going to disapprove of that plan.