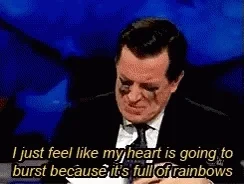 At about 16 seconds it looks like the black dog is giving an alarm bark to call in the apes with the arms and hands, but they don't show up, so it's damn-it-I'll-just-do-it-myself-time.
When I was a child, our Golden Retriever would sit guard while my sister and I swam in the lake at the cottage, but if either of my parents went in (they were both excellent swimmers, but kids are in the water more than adults), she would jump in the water, grab an arm and try to drag them back to shore.
Big dog: OK, now I'll jump in and you save me.
As heartwarming as this is, someone in the twitter comments has an excellent point; who the hell was filming this, instead of actively helping the first dog?
Lassie! before you run for help, pull me halfway out of the well by my lip.
One evening, we heard barking from our neighbor's yard behind us. This was going on for awhile, so we walked over to ask them if they could do something about the barking.
When the elderly woman opened the door, she was frantic. They didn't own a dog but there were two dogs in their backyard – one in the pool. She tried to help, but the barking dry dog kept growling and baring its teeth at her.
We got a blanket, covered the growling dog with it, and then grabbed the other dog from the pool. Poor little guy's front paws were bloody from its efforts to get out of the pool. We removed the blanket from upset dog to wrap the wet dog in it and it was so happy to see its buddy out of the pool!
Dogs are amazing.
I had interpreted it as edited security camera footage. It all looks like it is filmed from higher up than a person standing.
There are several camera angles, but they are all static, it looks like, so I'm guessing security cameras?
Oh. Yes.
Also from the cat, a layer of olive oil along the edge of the pool.
I am in tears from watching this.
The larger dog's obvious attempt to summon help and then doing his damndest to save another.
All the cameraman intrigue aside – how about that derpityderp stroll off the edge of the deck into the pool! Classic.
I guess I'm just a cynic. I think this is multiple takes cut together. In my mental model, they trained the two dogs to do the pull-out, and made it look real like a real rescue of some duration via editing.
It really looked like the small dog intentionally went back into the water.
This topic was automatically closed after 5 days. New replies are no longer allowed.